President McCullough: 'Dedicated' to building Legacy Hall
---
President McCullough: 'Dedicated' to building Legacy Hall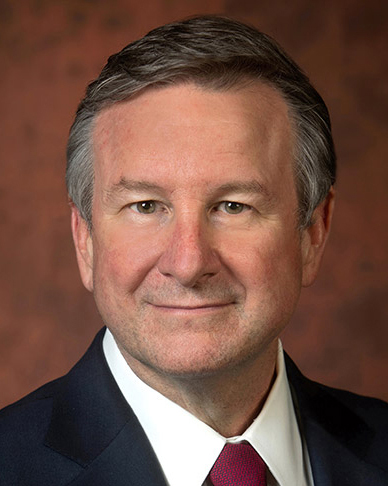 Florida State University President Richard McCullough hailed the rise in the national status of the College of Business and emphasized a continued march to preeminence – with an appeal to donors for construction of Legacy Hall, the college's future home.
"We're at a really interesting point," he said. "We have amazing programs that are highly, highly ranked, yet at the same time we are not where we need to be in terms of our infrastructure -- our building, the spaces that you see. So, we need to be dedicated to getting Legacy Hall built. This needs to be done."
McCullough made his comments in early November during a College of Business Board of Governors meeting, which came a day after the college's biggest night of the year – the annual Alumni Hall of Fame Dinner and Induction Ceremony.
The president and First lady Jai Vartikar joined about 200 others in the black-tie event, which saw the induction of Alumni Hall of Fame members Peter Collins (BS Finance '92; MBA '97), Ted Ostrander (BS Business Administration '70) and John Rivers (BS Marketing '89).
"I think we can still feel the excitement from the event last night," McCullough said. "Last night was not just a celebration of our amazing alumni but also the College of Business and the university's tremendous rise to preeminence."
McCullough also lauded Board of Governors members, including new chairman Brett Lindquist, for their work as dedicated volunteer servants of FSU.
"When we talk about giving to the university, we not only talk about philanthropy, but we talk about your time, your wisdom, your service to not only the faculty, staff and deans but to the students," he said. "Thanks to all of you and all of our generous friends and donors."
The president trumpeted the No. 1-ranked Dr. William T. Hold/The National Alliance Program in Risk Management and Insurance as an "incredible" achievement.
He also highlighted the No. 5 ranking among public universities for the Real Estate program and noted other "amazing" nationally ranked programs, in Management Information Systems (No. 16 among public schools), Marketing (No. 17), Management (No. 22) and Accounting (No. 24) – plus the university's No. 19 ranking among public schools.
"There's a tremendous foundation of excellence at Florida State University," McCullough said.
McCullough in August became FSU's 16th president, succeeding John Thrasher, who retired after seven years as president. As a holder of multiple patents and the founder of two companies, McCullough told the Board of Governors that he considers himself a builder with the determination to take FSU "to the next level."
"There are opportunities here that are absolutely tremendous," he said, "and as an 'academic CEO,' I think it's really interesting because you can relate to this as businesspeople who have built and run amazing businesses."
He reiterated the importance of Legacy Hall, which university officials have touted as a flexible, collaborative and multi-functional setting for teaching, research and learning and for its potential to draw exceptional students and to attract and retain more world-renowned faculty.
The governor and state Legislature approved $44 million in funding for the facility. That represents half of the initial projected $88 million cost, with the university responsible for the other half through private funding.
Officials said they had closed in on that goal before increased construction costs drove up the price of Legacy Hall. That has prompted increased urgency in appeals for gifts so that the university can start construction next fall, as planned. The facility would open in fall 2024.
McCullough said he considers Legacy Hall necessary to create a College of Business "that we want to be and to rise up in the rankings."
– Pete Reinwald