Accounting graduate hopes his family's gift will inspire future alumni to give back
---
Accounting graduate hopes his family's gift will inspire future alumni to give back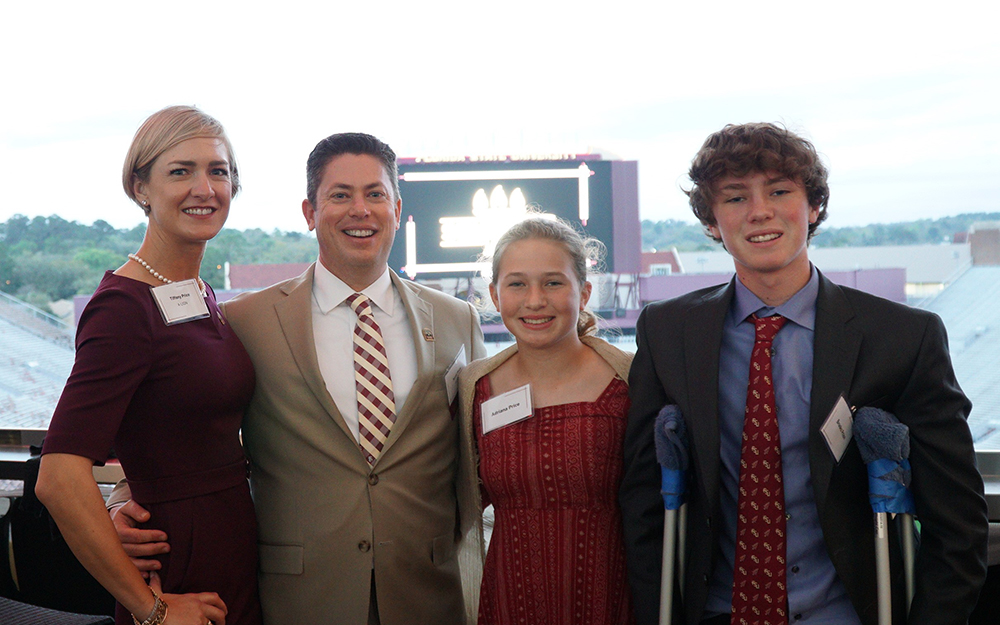 ​
When Scott Price studied accounting at Florida State University, he found himself drawn to the plaques bearing the names of individuals and corporations outside classrooms and offices in the Rovetta Business Building. He learned that successful alumni and friends of the College of Business had contributed financial support to name the rooms. He liked this tangible way of leaving a legacy. 
A little more than two decades after graduating with his bachelor's and master's degrees in accounting, Price and his wife, Tiffany, have given a $250,000 gift to Legacy Hall to name the 50-seat Scott and Tiffany Price Undergraduate Classroom. Price hopes generations of students to come will take note and, similarly, pay it forward one day.
"I'd like for future students to see that an FSU College of Business graduate was able to do this and say to themselves, 'I want to do that, too,'" said Price, founder and chief executive officer of A-LIGN, a Tampa-based cybersecurity, compliance and security firm. "Tiffany and I are excited to support this state-of-the-art classroom, and we feel real joy that future students will benefit from it and Legacy Hall."
Price has a long history with FSU and the College of Business. He was 2 years old when his parents, William and Mary Hodges Price, both 1968 FSU accounting graduates, took him to his first Seminole football game. Until he turned 21, he only missed one game, in 1996, to take the CPA exam. He is proud that his uncle, Phillip Price, and cousin, Phillip Price, Jr., also earned their accounting degrees at FSU. Tiffany earned her bachelor's degree from Albion College in Michigan and her MBA from the University of South Florida. 
Price also maintains close professional ties with his alma mater. He has served as chair of its Accounting Professional Advisory Board since 2017 and visits campus frequently to speak to students and offer professional guidance. He estimates that 60 percent of A-LIGN's new campus hires are FSU accounting, management information systems and computer science graduates. 
"All of us at the College of Business are grateful for Scott and Tiffany's commitment to FSU and the college, and we are thrilled that they have made such a generous gift to Legacy Hall," said Dean Michael Hartline. "Their gift and Scott's interactions with our students are making a world of difference as we continue to move farther down the path of preeminence."  
A lifelong member of Seminole Boosters and a huge softball fan, Scott and Tiffany created the Price Family Softball Scholarship to support student athletes. In 2018, he participated in the university's effort to enhance the JoAnne Graf Field at the Seminole Softball Complex.
Since founding his cybersecurity firm in 2009, Price has strengthened global brand recognition, increased revenue and, last year, raised a $54.5 million investment. He continues to be a trailblazer in providing global security, cyber risk advisory and compliance solutions. In recognition of his tremendous professional success, he received a Seminole 100 award in 2018 and 2019. The award was one of several accolades A-LIGN and Price have amassed in recent years. In 2018 alone, the company secured a spot on Consulting Magazine's Best Small Firms to Work For, Tampa Business Journal's Fast 50 honorees and placed No. 30 on its Florida's Fast 100 rankings. The company is among Inc.'s 2017 and 2018 lists of 5000 of the Fastest-Growing Private Companies in America. 
Recognized as one of Accounting Today's Managing Partner Elite for 2016, Price also was nominated for AICPA's Maximo Mukelabai Award, which recognizes a CPA under the age of 40 for his or her passion and contributions toward building the CPA pipeline, advocating for the accounting profession and performing outstanding community service. This year, Price received the National Silver Leadership Award at the Junior Achievement of Tampa Bay's Hall of Fame Ceremony in March.
"FSU and the College of Business are important to our family, and I am grateful for what I've been able to accomplish professionally and personally because of my education and involvement since graduating," Price said. "Now that I am able to, I want to make things better for students, encourage them to give back when they can and, at the same time, leave our own legacy. Our gift is one way of doing that. After all, there isn't going to be another new FSU business building in our lifetime."
---
By Barbara Ash