Seneff Scholars gain consultancy experience through new project
---
Seneff Scholars gain consultancy experience through new project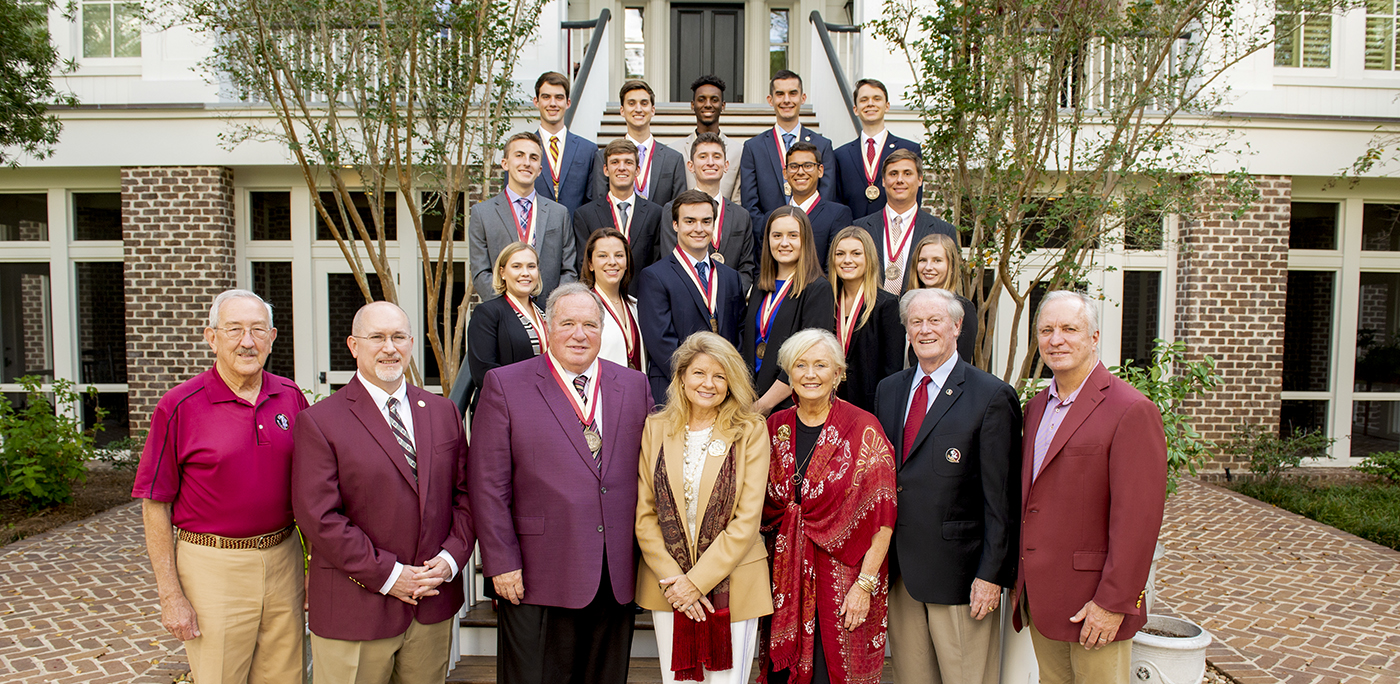 When Jim and Martha Seneff heard that students across the country, including the FSU College of Business' high-performing James M. Seneff Scholars, were having difficulty finding summer internships or that their offers had been revoked because of COVID-19's impact, they did not hesitate to devise a solution. They created a consulting project that is giving Seneff Scholars the all-important work experience, while also providing the opportunity to better understand how to use creative solutions to solve real-world problems.
The scholars have been assigned to study the core tenets in many of the most-cited books on business, economics and history, explained Luke Hopkins, director of the James M. Seneff Honors Program.
The current 16 Seneff Scholars are a community of top undergraduate business students who benefit from an especially rigorous curriculum as members of the James M. Seneff Honors Program, which stresses innovation, leadership, collaboration and forging lifelong professional connections. It also provides travel and research options and expanded internship and experiential-learning opportunities. Established in 2019 as part of a $5 million gift to the college by the CNL Charitable Foundation, the program honors 1968 alumnus Seneff, founder and executive chairman of Orlando-based CNL Financial Group (CNL). 
Hopkins said he worked with the CNL team to design the project and then presented students with a scope of work that lays out the specific tasks, deliverables and timelines. He divided the cohort into four workgroups and had each group assign a leader to oversee the work and serve as a point of contact with him. The scholars present their progress to Hopkins through weekly Zoom meetings. The team leader organizes the meeting, ensures the other team members are actively engaged, and acts as the lead presenter for each meeting. The overall goal is to simulate the structure found at major management consulting firms. 
Everyone is required to read "The 80/20 Principle: The Secret to Achieving More" by Richard Koch. Additionally, each group was assigned one other book from Seneff's recommended readings: "The Great Influenza" by John Barry; "The Rise of Carry" by Tim Lee, Jamie Lee and Kevin Coldiron; "Poor Charlie's Almanack" by Charles Munger; or "The 4th Turning" by William Strauss and Neil Howe. 
"We asked them to consider these concepts and explore how various external factors have impacted these ideas," Hopkins said. "We are hopeful this project will provide a real-world environment for consultative problem resolution, as many of the Seneff Scholars are targeting consulting firms after graduation. We want them to complete this summer project with a better understanding of how to use creative solutions to solve real-world problems and how this process can be much more efficient once you understand the right questions to ask and how to ask them." 
Seneff Scholars were asked to approach the concepts with an open mind to avoid the conventional steps associated with literary analysis, Hopkins said. "We asked them for imaginative, atypical strategies for addressing the similarities and differences within the text." 
"After reading 'The 80/20 Principle,' I understand why Mr. Seneff wanted us to read it," said finance and management major Katherine Newsome, one of the team leaders. "It has taught me to focus my efforts on what I do best because that will ultimately produce the best results. I think people in my generation often do things a certain way because we are told to do it that way, and this project is teaching me to think differently. I have learned that I have the opportunity to be creative, think outside the box and go about a problem in a unique way because I know that the method will be effective for me." 
Newsome adds, "This opportunity has been a blessing because I had an internship cancelled at the last minute and was having a hard time finding another one. The fact that Mr. Seneff gave us such an amazing opportunity shows how much he cares about us scholars and the program he helped create. Working with him directly means so much to me because he has so much expertise, and I always take something important away from the conversations I have had with him."