Mary W. Solomon gives $1M to create the E. Ray Solomon Floor in Legacy Hall in honor of her late husband
---
Mary W. Solomon gives $1M to create the E. Ray Solomon Floor in Legacy Hall in honor of her late husband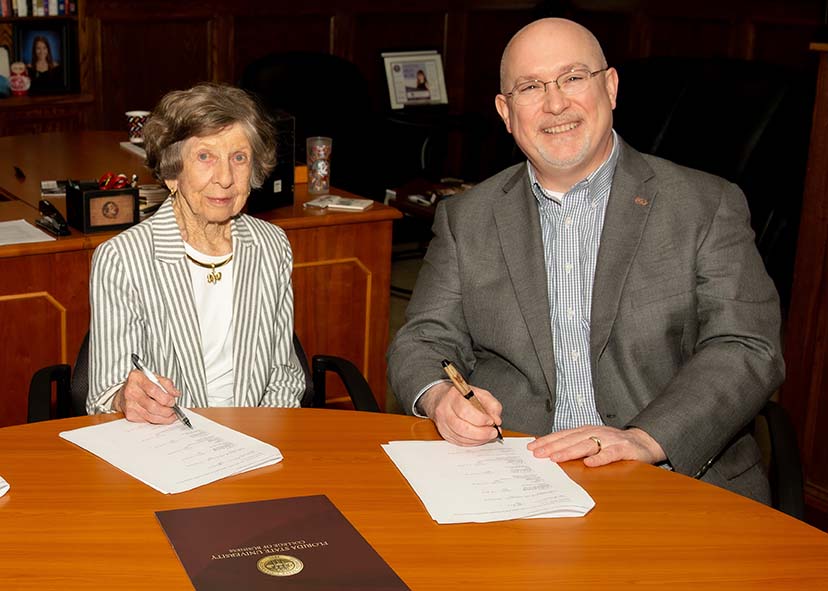 The Florida State University College of Business has received a major gift that celebrates and further cements the legacy of one of its most beloved family members, student supporters and university boosters.
Mary W. Solomon this month committed $1 million to establish the E. Ray Solomon Family Floor in Legacy Hall, the future five-story home of the College of Business.
She made the gift in honor of the late E. Ray Solomon, her husband of 65 years and the father of Susan and Earl. He retired in 1997 and died in 2019, two years after his induction into the inaugural class of the college's Charles A. Rovetta Faculty Hall of Fame.
He remains the college's longest-serving dean.
"Ray loved the College of Business and Florida State University," Mary Solomon said. "I thought this gift would be a good way to honor his memory and his dedication to the institution to which he joyfully gave so many years of service, energy and heart."
Solomon's FSU career spanned 35 years, beginning in 1962 when he joined the college as a teaching faculty member. He became dean in 1974 and oversaw an expansion of majors, a significant increase in undergraduate enrollment and an emphasis on "individual attention" – a student-centered attribute that the college embraces and trumpets to this day. He stepped down in 1991 and returned to a faculty position as the college's first Midyette Eminent Scholar in Risk Management and Insurance.
Now his name forever will reinforce the third floor – the level of the dean's suite – in Legacy Hall, a state-of-the-art facility scheduled to open in 2025. It will mark the largest academic space on campus.
"I love that it's named Legacy Hall," Susan Solomon said. "Dad can be a part of that."
Michael Hartline, dean of the college, hailed the gift as "an extremely generous investment that will support our students and faculty and staff members for decades to come."
"We genuinely thank Mary for supporting our college with a remarkable gift that will symbolize Ray's enormous contributions and his everlasting presence in our journey to preeminence," Hartline added.
The gift will fund construction of Legacy Hall, which college and university officials tout as a flexible, collaborative and multi-functional setting for teaching, research and learning. They also note its potential to draw exceptional students and to attract and retain more world-renowned faculty.
Mary Solomon said she envisions a facility that will feature equipment, technology and amenities that reflect students' needs in "a changing world."
Susan Solomon added: "It can only do good things for the community, for this generation and for coming generations."
The signing took place in Hartline's office -- the very spot where E. Ray Solomon spent the final years of his deanship, after the Rovetta Building Annex opened in the mid-1980s.
After the signing, Mary and Susan talked with Hartline and warmly reflected on Ray Solomon's life and his love for shaping -- with a personal touch -- a new generation of business leaders.
Ray Solomon served as class president of Carrabelle High School. He earned bachelor's and master's degrees from FSU and a Ph.D. from the University of Wisconsin–Madison.
Asked what her dad might have thought about having a floor in the college's future home named after him, Susan Solomon said: "He would have been very surprised – and he would have been thrilled."
Colleagues and family members remember him as a humble and personable leader who took an everlasting interest in his students.
Mary Solomon said students continue to make donations in his memory to the E. Ray Solomon Presidential Scholarship or the E. Ray Solomon Endowment at the Southern Scholarship Foundation. One former student – from the 1960s -- makes an annual donation, she said, and here's why: The student never forgot a field trip to Jacksonville for a visit to Independent Life Insurance Company.
During the trip, Ray Solomon pitched the student to the company as a great job prospect. And while in Jacksonville, Solomon accepted an invitation to the student's home to meet his parents.
"The student told me he served in the war in Vietnam, and when he came back, his job was waiting for him," Mary Solomon said, citing a letter from the student. "He was forever thankful for Ray."
Susan Solomon told of a time within the last few years when the husband of a friend shared anecdotes about her father. The man graduated from the college in the 1970s.
"He told me, 'I remember your dad,'" Susan Solomon said. "He remembered my dad walking around the 'B' school, always speaking to the students and always with a smile.
"He could tell that my father loved to be here and was interested in the students and their success."
Hartline, who became the college's sixth dean in 2016 – 25 years after Solomon stepped down -- called Solomon "the architect of our individual attention that we pride ourselves on in this college."
The college's slogan for years has declared "International Acclaim. Individual Attention," which Hartline includes in his email tagline. Hartline said his immediate predecessors – Melvin Stith and Caryn Beck-Dudley – also embraced individual attention, among other Solomon initiatives.
"Ray did that," Hartline told the Solomons after the gift-agreement signing. "He created the culture in this college that we've nourished ever since."
Solomon also played a strong role in the growth of the college's master's and doctoral programs and spearheaded creation of the college's risk management/insurance and real estate programs. The Dr. William T. Hold/The National Alliance Program in Risk Management & Insurance now ranks No. 3 and the real estate program No. 5 among public schools, according to U.S. News & World Report.
"It's not a surprise that those are our two highest-ranked programs," Hartline said. "That comes from Ray. We are who we are because of the structure – as well as the culture -- he put in place."
"Now he will forever be the longest-affiliated dean with the college because his name will be on the administration floor," Hartline added. "No one will ever beat that."
"I am so pleased to be able to make this contribution in Ray's memory," Mary Solomon said.
-- Pete Reinwald