Students tout Legacy Hall for its potential to 'elevate'
---
Students tout Legacy Hall for its potential to 'elevate'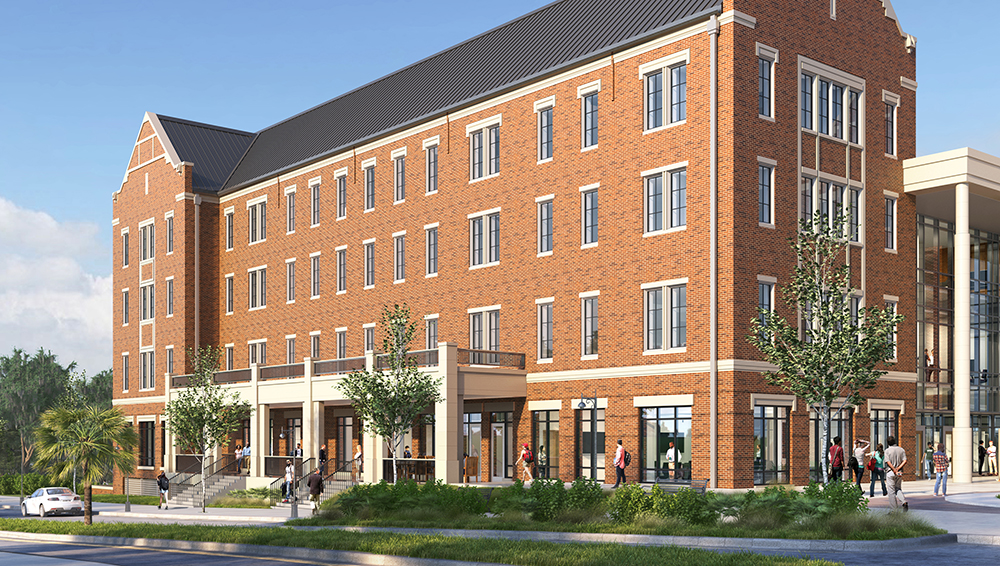 ​
An impressive site to network and jump-start careers. A spacious location to study, collaborate and aim high. A state-of-the-art place that will propel the college forward.
Business students say they think the construction of Legacy Hall will provide a long list of benefits with an overarching result: launching the college to new heights.
"I think it will definitely elevate our reputation," said Master of Accounting (MAcc) student Gabrielle Dolan.
Legacy Hall is the college's future home, a 220,000-square-foot facility that will become the largest academic building on campus.
College and university officials tout it as a flexible, collaborative and multi-functional setting for teaching, research and learning. They also hail its potential to draw exceptional students, to attract and retain more world-renowned faculty and to expedite its journey to preeminence.
"For me foremost, it's a place where we can continue to build the prestige of the Florida State University College of Business," said Sebastian Ortiz Isaacs, a senior who is majoring in finance with a minor in social entrepreneurship.
The governor and state Legislature paved Legacy Hall's path to fruition last year when they approved $44 million in funding for its construction. That represented half of the initial projected $88 million cost, with the university responsible for the other half through private funding.
Officials said they had almost completed raising the university's $44 commitment before increased construction costs drove up the price of the facility.
That has prompted FSU President Richard McCullough and college Dean Michael Hartline to intensify appeals for gifts that would allow construction to start this fall, as planned. The facility would open in fall 2024.
Citing two academic programs in the Top 10 and six in the Top 25, McCullough recently told the College of Business' Board of Governors that he considered Legacy Hall necessary to create a college "that we want to be" and one that keeps climbing the rankings.
Officials acknowledge the college is overflowing its current home, Rovetta Business Building and Annex.
Samantha Paustian-Underdahl, an associate professor of management, said the college "provides world-class business education to our students, and we need a building that can better support our mission. Legacy Hall will provide larger classroom capacity and dynamic shared spaces that our students need to foster more collaboration and innovative learning."
Faculty and staff members consider Legacy Hall far more than optional.
"It is absolutely essential," said Marissa Mainwood, the college's director of student engagement.
Mainwood emphasized Legacy Hall's expansive space to study and to meet comfortably in small or large groups. She also highlighted its planned recruiters lounge and interview rooms, where students will talk to employers about careers or internships and practice for job interviews.
Students say the new building should impress and attract employers.
"Once professionals see how state-of-the-art this building is … I think that's going to make them want to come in and speak to our students even more," Dolan said. "We'll have a greater selling point for all of our great programs and learning."
Ortiz Isaacs agreed: "We're on the rise, and you can see all these new recruiters and new companies coming in. Setting up spaces for where these resources can be used to bolster the College of Business is much needed, and it's going to be very exciting."
With five floors to accommodate future growth, Legacy Hall also will feature a central atrium to promote connection and collaboration and a 300-seat auditorium for classes and speaking events, among other rooms and spaces.
"The quicker we get it built, the better we're going to be able to serve our students – and the better opportunities they'll have," Mainwood said.
College officials agree the facility will be a difference maker.
"We consider our new building game-changing for our college and potentially life-changing for our students," Hartline said. "That's why we continue to reach out to our alumni and friends for their generous support."
David VanLone, the college's chief development officer, said the college and university continue to raise funding through gifts to name Legacy Hall rooms and spaces.
"We're in the final stages of funding," he said. "We're working with alumni and friends, and we have lots of engagement. We're telling everybody that if they're interested in making or upgrading a gift to please consider it, because we want them to be part of the groundbreaking party that we expect to have later this year."