Symposium brings world-class real estate scholars to FSU
---
Symposium brings world-class real estate scholars to FSU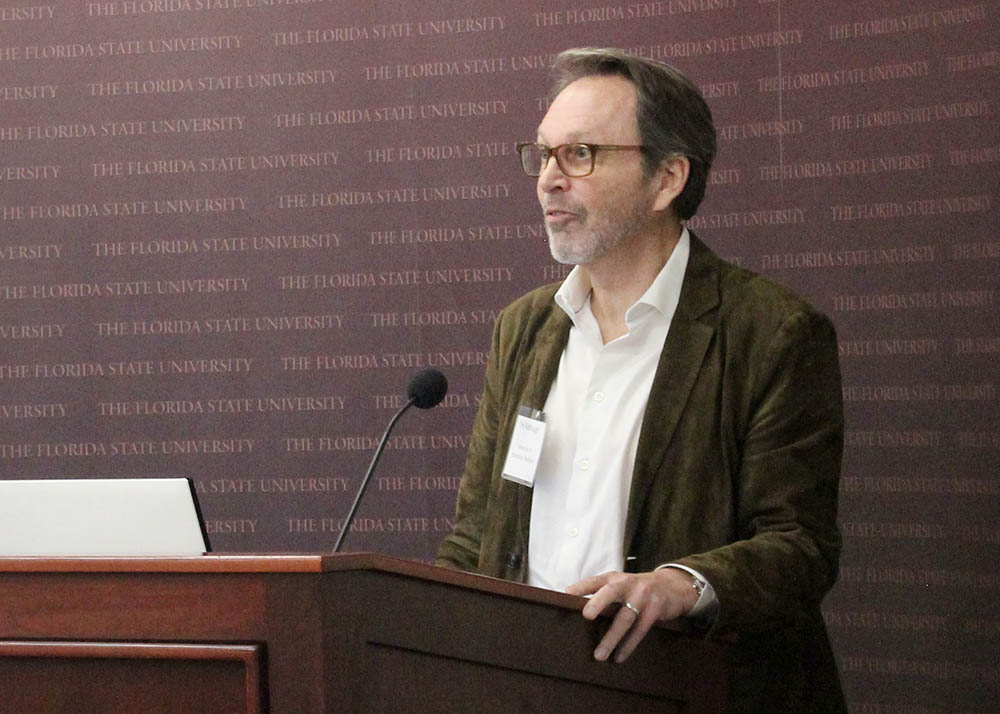 Investment sales in commercial real estate plunged in the second half of 2022 due to rising borrowing costs and dampened investor sentiment.
Yet aside from the abrupt turn in the property cycle, "there are all kinds of interesting questions and weird stuff going on in this market," Professor Timothy Riddiough said. "You need good economic minds to figure out what's happening and why."
Riddiough, the James A. Graaskamp Chair in Real Estate and a professor at the Wisconsin School of Business, made his comments Friday as the keynote speaker at the annual FSU-UF Critical Issues in Real Estate Symposium in Tallahassee.
The symposium, organized by the Real Estate Center at Florida State University and the Kelley A. Bergstrom Real Estate Center at the University of Florida, featured research presentations from faculty members of Cornell University, the University College of London, the University of North Carolina at Chapel Hill, the University of Southern California and the University of Wisconsin - Madison.
Researchers presented on issues related to direct and managed private equity investment in commercial real estate – a theme that FSU chose as host of the event.
Mariya Letdin, the Madeline Duncan Rolland Associate Professor of Business Administration at the FSU College of Business, introduced Riddiough as "one of the world's leading experts on private equity real estate."
Riddiough described private equity real estate as "an important topic" that offers "tremendous research opportunities."
Since 2003, private equity real estate, or PERE, ranks second to buyout funds in total capital raised, Riddiough said, citing data from investment data company Prequin. Yet he said PERE has received less attention in the academic finance literature compared with other asset classes, in part because data hadn't been available until recently.
"Private equity real estate has been tremendously active and has stayed active … while buyout and venture capital have been up and down," Riddiough said.
Symposium participants also included scholars from FSU, UF, the University of Connecticut and the Massachusetts Institute of Technology, plus Greg MacKinnon, director of research at the Pension Real Estate Association; and Jim Treanor, deputy chief investment officer at the State Board of Administration of Florida.
Joining Letdin from FSU were Daniel Broxterman, an associate professor, the Francis Nardozza Fellow in Real Estate and the academic director of the FSU Real Estate Center; Kyeonghee Kim, assistant professor of risk management and insurance; G. Stacy Sirmans, the J. Harold & Barbara M. Chastain Eminent Scholar in Real Estate; and Tingyu Zhou, the Dean Gatzlaff Associate Professor of Real Estate.
"I really enjoyed hearing everyone's comments and the papers and discussions," Letdin said. "Very thought-provoking, excellent research, excellent scholarship."
Postponed the previous three years because of the COVID-19 pandemic, the symposium moves next year to UF. Broxterman said researchers interested in participating should look for a call for papers this summer or contact him at dbroxterman@business.fsu.edu with questions.