Working, learning remotely is the new norm across campus
---
Working, learning remotely is the new norm across campus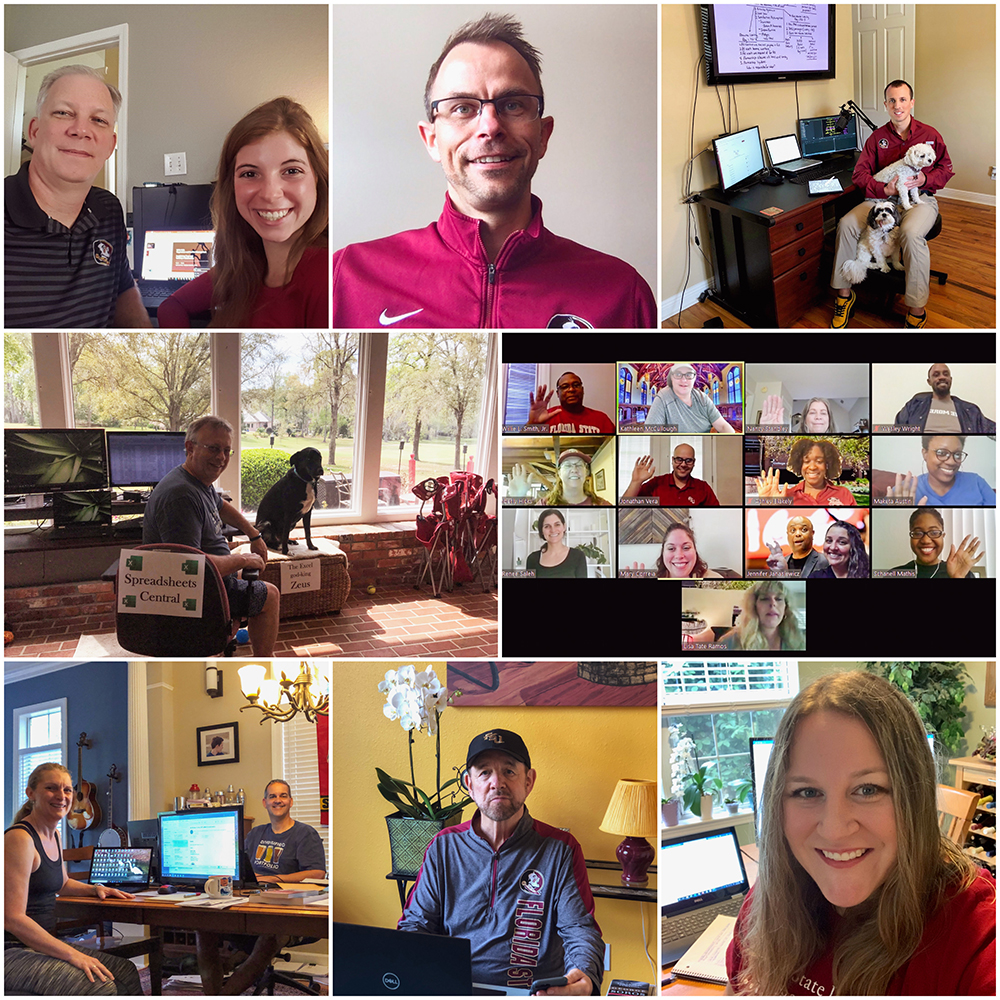 FSU began a new chapter March 23 as the entire campus moved to virtual learning for the foreseeable future in response to the global COVID-19 pandemic. Students, faculty and staff members are adjusting to working remotely and practicing social distancing in compliance with efforts to stem the spread of the disease. Whether they have commandeered the family's dining room table or are sharing the living room sofa with siblings, they say they are adapting and taking the new normal in stride.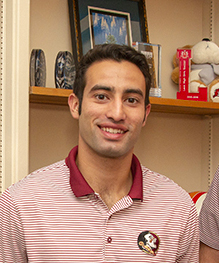 Aaron Goldstein an undergraduate senior majoring in accounting and finance, now studying remotely from his home in Orlando
"I think everyone is worried about their families, jobs and the future, but it is promising to see our professors bring the same energy online as they put into our in-person classes. It is disappointing that I could not finish my senior year in Tallahassee, yet this time is making me cherish the four years that were cut short, and I am as grateful as ever for the Seminole community right now. It has been distracting to work from home, but discussions are still lively, and we are making the most of our circumstances."
---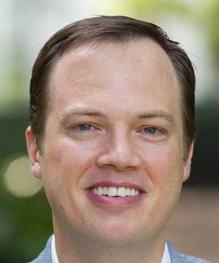 Jonathan Jackson, assistant lecturer in marketing, teaching from an upstairs bedroom at his home in Tallahassee
"I miss my coworkers and students and walking around the beautiful FSU campus, but I like that I can see the students' faces and they can see me (through Zoom). I asked my class for feedback at the end of our first Zoom class meeting, and they were very positive!
"I hauled an old desk out my garage and installed it in the second-floor bedroom of my home. One of the nice parts of this adjustment is that I am cooking more at home and spending more time chatting with my neighbors than ever before. Social media is a great tool for people to remain connected while we're apart. Whether people are practicing social distancing, working from home or remaining in social isolation for health reasons, social media can create a sense of togetherness."
---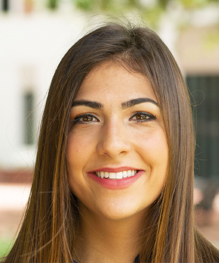 Brooke Lord, graduating this semester with a Master of Business Administration (MBA) with a specialization in supply chain management, learning from the kitchen counter in her Tallahassee home
"I took many of my undergrad classes online so I can say without a doubt that I knew FSU had the capability to move all classes online. I know many people were worried about this, but FSU is very experienced in providing online classes, and I've had almost no issues with them in the past. Because everything has moved so quickly there may be hiccups in classes for the first week or so, but I hope students do not get discouraged as that should pass, and they should be fine.
"Working at home has its pros and cons, but I am trying to stay positive about the situation since I can't change it. It has been helpful having more time on my hands as I have been able to take care of a lot of things I didn't have time for previously. I think in general it is forcing people to slow down and catch up on their personal lives and be more creative in how they will get things done, which has been a much-needed break for many!
"Though I miss the camaraderie of in-class sessions, the Zoom platform has been helpful in restoring this, as I still get to see my classmates. I am very bummed about the hooding ceremony and graduation being delayed/cancelled for now, but I trust that FSU will find a way to reschedule it and make it special for us when it is safe to do so again."
---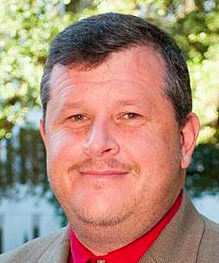 Charles Nyce, Robert L. Atkins Associate Professor of Risk Management and Insurance, telecommuting three feet from his bed in his Tallahassee home
"The students adapt more easily than faculty do. I have heard a few complaints, but with a class of 475 moving from in-person to online, it has been relatively smooth. I think most of our students have had experience with online learning, more than most of our faculty have. It may not be ideal for them, but they will come through. I think the more extroverted faculty, like myself, and students will have a more difficult time with the isolation. The loss of the feeling of camaraderie that you get in an in-person class is hard to replicate online. You must be more self-motivated to be successful in online learning. It is not for everyone. Some students who do well with in-person classes may find themselves struggling more than they expected."
---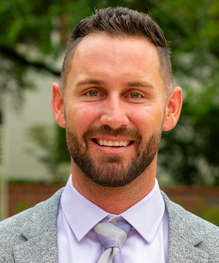 Taylor Oldham, president of the Master of Science in Finance (MSF) Student Association, graduating this semester, sharing the living room with his teenage sisters in his family's home in Orlando
"I have never taken an online class before this week and had many reservations on what the experience would entail. Contrary to my downbeat suppositions, my online classes have been sublime. FSU and the professors have done a phenomenal job in easing this transition. Specifically, I have enjoyed the platform FSU has chosen and how it allows me to interact with my classmates and professors in a similar manner to a classroom. Professors can record the lectures, so I can review the lectures if a concept is unclear. I most definitely see this as the future of education.
"I am, however, despondent over the hooding ceremony being cancelled, but I believe this hard decision was made with acute awareness for our current situation. I look forward to making this a positive part of my life story, knowing my FSU class made a difference when our world needed it."
---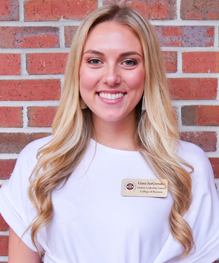 Giana SanGiovanni, a senior majoring in marketing and finance and serving as president of the college's Student Leadership Council, completing schoolwork from a desk in her Parkland, Florida bedroom, sometimes taking her work to the backyard
"As a graduating senior, the news of my last days in the Rovetta Business Building being cut short came with sorrow and a loss of words. More importantly, however, it came with a deep understanding and respect for my university's decision to protect our FSU community and to do our part in ending what is much larger than the sacrifices we are making as students.
"While there are still many uncertainties and changes to each one of our daily routines, one thing that has remained steadfast, and that will never be uncertain, is the College of Business' commitment to its students. This has been reflected in my professors' actions to not only revolutionize their own ways of teaching and delivering course material, but also guide us through the challenges ahead and adjust our learning to the circumstances. As a finance major, my course material has been altered to include information about current investment issues and analysis of economic conditions in the U.S. This flexibility in learning will be especially useful to graduating seniors who are entering the workforce and need to be knowledgeable about our country's current financial state.
"Overall, while the experience may be different from a course that has been strictly designed to be delivered online, what has remained unchanged is my professors' dedication to their students. I even enjoy the use of Zoom because it allows us to feel as if we are still connected and promotes collaboration, knocking down barriers that may exist in online classes that solely focus on the performance of the individual.
"At the end of it all, I have no doubts that the Seminole community will reunite stronger than ever. Time apart, as hard as it may be, is necessary for future time together."
---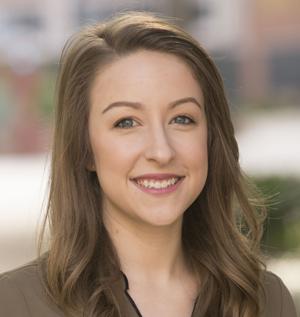 Adrienne Teffner, an MBA student specializing in human resources and a staff services specialist in the college's Finance and Human Resources' office, working in Tallahassee at her dining room table and relocating to her spare bedroom for virtual Zoom meetings
"The online format is not totally new to me, however, working remotely absolutely is new to me! I did not realize how much of a people person I am until my College of Business colleagues and University Business Administration teammates were absent from my day-to-day workplace life. My professional responsibilities include recurring personnel transactions, such as appointments and payroll processes, most of which can be entered and tracked electronically (with the exception of hiring processes that require physical documents, witnesses and notarization, which will absolutely be a challenging bridge to cross when we get there). However, the customer service aspect of my job has been more difficult to execute as the ability to address certain issues, provide guidance and anticipate needs based on shared information has always heavily facilitated by in-person communication and interaction among faculty, staff, students and administration in general.
"Observing our university, large external organizations, small businesses and individuals collectively respond to the COVID-19 situation has been a very real-world opportunity to witness the issues facing personnel managers and workforce infrastructures. As the situation is ambiguous, changing almost hourly, and none of us can see the future, the decisiveness and resilience put forth by Florida State has enabled me to stay organized, finish out my degree program strong and work as effectively as possible until we have more information."
---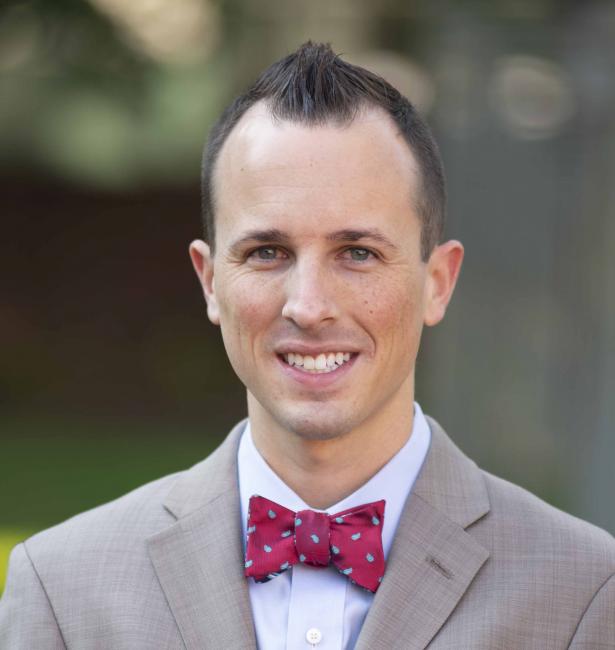 Nathan Wadlinger, attorney and assistant lecturer in accounting, delivering instruction from his studio office in his Tallahassee home, sharing space with his two dogs, Aria, a bichon-shitzu, and Zorro, a shitzu
"The purpose of educating our students is to enable them to become successful. Whether we educate them in person or remotely, students still come first, and we are ensuring that the students receive the same high-quality instruction. It's also important that we make the instruction interesting and fun. I've been continuing to use my costumes* in my videos and also my dog 'helpers' for examples in the class."
* Wadlinger is famous at the college and among his accounting students for donning costumes to illustrate the day's lesson. So far, he's appeared as Sherlock Holmes, Darth Vader, Uncle Sam, Nintendo's Mario, a lobster and a chef, among others.