Whether you are seeking a summer intern or someone to fill a permanent position at your company, the Florida State University College of Business is a smart place to start your search.
Our students learn from world-renowned faculty members in top-ranked academic programs, as well as from executives who excel in their industries. When our students graduate, they are prepared to hit the ground running and contribute to your bottom line from their first day on the job.
---
Highly Ranked Programs
We're proud of our rankings and what they do for our students. They keep our business partners coming back to us when they need employees and leaders.
---
Student Data
The college serves more than 6,800 smart, eager and energetic students and offers nine undergraduate majors, six master's degrees and one Ph.D. program with six majors.
Enrollment at a Glance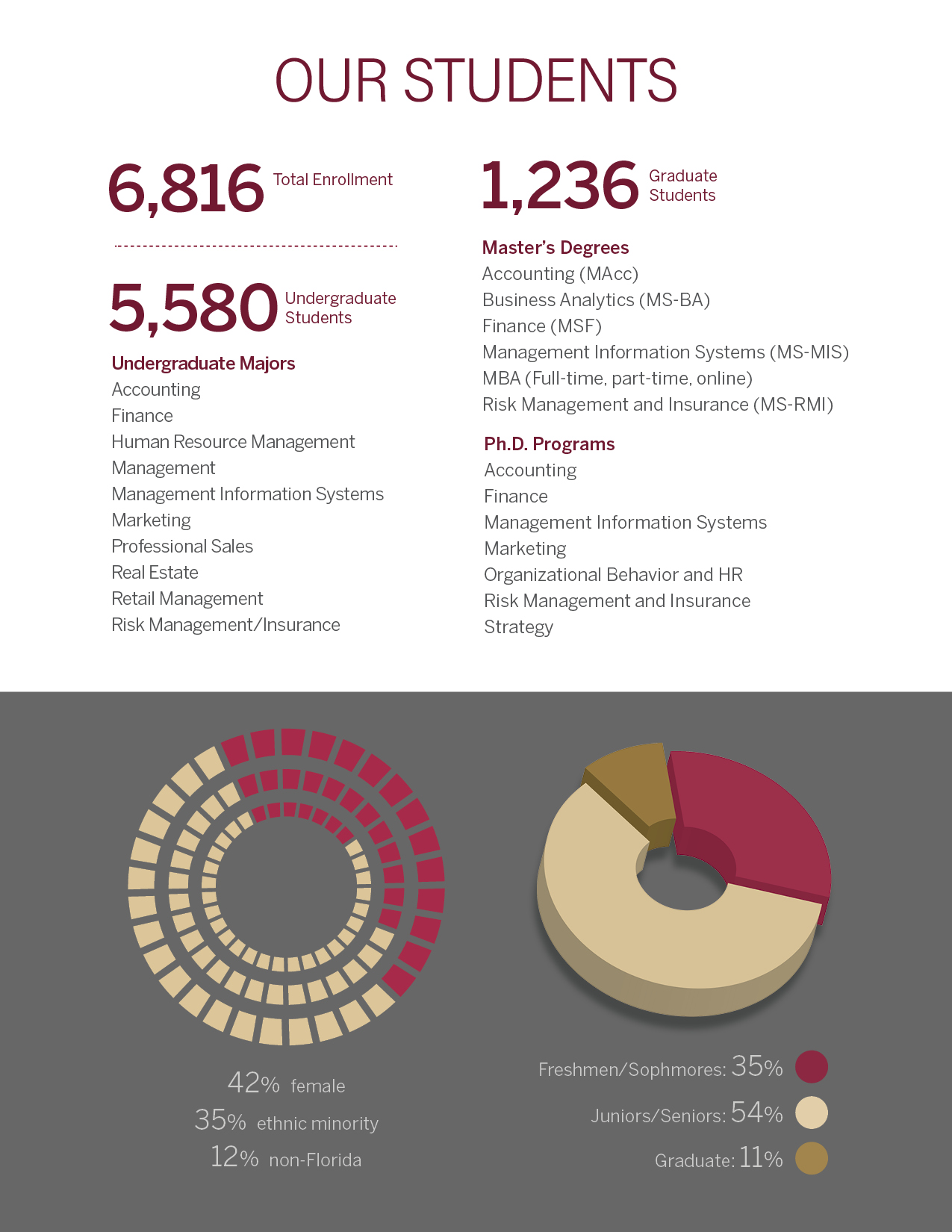 ---
Recruiting Opportunities
There are many ways to connect with our students for networking, hiring and building your brand on campus. The College of Business has created a number of opportunities designed to help you connect with top talent.
Opportunities
Business Career Expo
Held every fall and spring, the Business Career Expo is a recruiting event that gives employers direct access to one of the nation's best talent pools – Florida State University business students. Open to College of Business freshman- through graduate-level business students, the expo is an opportunity to begin or strengthen your company's engagement with students. The Business Career Expo provides a forum for students and employers to meet and talk one-on-one about full-time, part-time and internship opportunities.
Employer of the Day (EOD)
Recruiting companies are invited to campus for a day to interact with students in classes, at roundtable luncheons, in information sessions and by staffing corporate information tables in the College of Business. Our team builds out robust recruiting schedules to ensure companies are meeting with the ideal student prospects.
Student Clubs & Organizations
The college has 30+ student clubs and organizations through which your company get involved with our students by hosting events and information sessions, as well as providing guest speakers for their meetings.
Accounting Freshmen/Sophomore Celebration
This casual event allows select accounting firms to meet freshman and sophomore accounting majors in-between classes to discuss internships and career paths with recruiters early in their studies.
AIS Meet the Firms
Held every fall and spring semester prior to Seminole Futures, this event coordinated by the Association for Information Systems (AIS) allows its members to meet with firms interested in hiring management information systems (MIS) majors.
Insurance Days
Held every fall and spring semester, Insurance Days, a two-and-a-half day event, allows risk management/insurance (RMI) students to learn about companies and career opportunities. It also provides a venue for recruiters to conduct on-campus interviews.
Real Estate Speed Connections
This session, which is part of the annual FSU Real Estate TRENDS Conference, enables prospective employers to briefly meet with real estate students for recruiting. This event is exclusively available to the FSU Real Estate Center's program partners and FSU Real Estate TRENDS Conference sponsors.
Seminole Sales Showcase
A two-day event, Seminole Sales Showcase includes a career fair open to all business students, a "Speed Selling" competition, a networking event and a sales role-play competition. This event is exclusively available to FSU Sales Institute partners.
For more information on our recruiting opportunities, please contact Hannah Howard, employer engagement coordinator, at hhoward@business.fsu.edu.
---
Post on Our Job Board
Employers looking for enthusiastic interns and new employees ready to hit the ground running will find the task a little easier with the college's online Business Job Board. Companies can connect directly with business students by submitting an online form to advertise full-time and part time positions, and internships. The site allows employers to showcase position descriptions, job responsibilities and preferred skill sets and major, if applicable. Submit your job or internships opportunity at business.fsu.edu/submitjob or use the button below.
If you'd like to advertise university-wide, we encourage you to post to SeminoleLink powered by Handshake. This is the FSU Career Center's registration system linking Florida State students to potential employers. This is also a great way for employers to form an official recruiting relationship with the university in general. Posting is free and easy! By registering with SeminoleLink, you also gain the ability to post full-time jobs, request on-campus interview dates, register for career events and sign up to be a mentor through our ProfessioNole networking system. Learn more about all employer services, programs and resources at the FSU Career Center's HireANole webpage.
---
Hire an Intern
The Center for Professional Success encourages employer internship development and the hiring of our students for those positions. Review the college's Internship Program Policies and Procedures for more information.
---
Partner with Us
Through active engagement and access to value-added services, our Corporate Talent Partners can tap into a diverse talent pool of energetic students and the resources of a world-class business school. Invest in the College of Business at Florida State University and start building your visibility on campus.
Build a customized partnership to suit your hiring needs and recruiting schedule. Select your partnership level and choose from a variety of unique and innovative recruiting activities to further develop your brand on campus.
Corporate Talent Partner Brochure  
---
Download this webpage in a printer-friendly brochure format.