New U.S. News rankings best ever for Insurance, Real Estate, Accounting
---
New U.S. News rankings best ever for Insurance, Real Estate, Accounting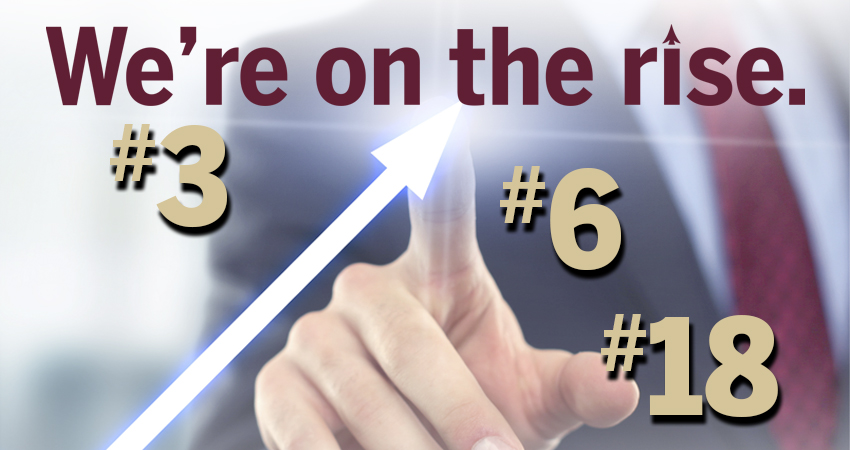 ​
Taking their Top 10 standings to new heights, the Florida State University College of Business' undergraduate programs in Insurance and Real Estate now rank No. 3 and No. 9 respectively among all programs nationwide, according to Monday's release of U.S. News & World Report's "Best Colleges 2020" guidebook.
The new No. 3 ranking among public and private schools by the Dr. William T. Hold/The National Alliance Program in Risk Management and Insurance marks a jump of two places from No. 5 last year. 
The Real Estate Program also experienced a two-spot increase to No. 9, up from No. 11 last year. Its status among public schools ranks even higher – No. 6, up from No. 7 last year.
Based on the perceptions of deans and senior faculty members at peer institutions, the latest undergraduate rankings showcase best-ever accomplishments for both programs, said Michael Hartline, dean of the College of Business, and firmly secure their standing among the nation's elite Top 10. Additionally, the college's undergraduate Accounting Program rose a monumental 29 places to No. 27 among all schools, up from No. 56 last year. The program now ranks No. 18 among public schools nationwide.
"We are honored to hold a place among the best undergraduate business programs in the nation," Hartline said. "This reflects countless dedicated hours by our faculty and staff to offer a top-notch educational experience. We work daily to equip students for professional success, and our faculty's research continues to generate new knowledge that will benefit business practices for years to come."
The college's enhanced profile mirrors the upward trajectory of Florida State University, which soared eight spots to No. 18 among national public universities in U.S. News & World Report's annual rankings. Since placing No. 43 in 2016, FSU has moved up 25 spots among public universities.
FSU President John Thrasher shared the university's good news with campus on Monday. "We're one of the fastest rising universities in the nation — and that's because our faculty, staff and students demonstrate a commitment to excellence every day," he wrote in a campus-wide email announcing the accomplishment. "This ranking clearly reflects the tremendous value Florida State University places on student success."
Thrasher also credits investments by legislators, board members and donors that have led to more faculty hires and better faculty-student ratios. 
Hartline said the College of Business is also reaping the results of generous contributions to its programs by friends and alumni. "It's truly a great day to be a Seminole," he said.
Visit our Programs Rankings web page to see more of the college's standings.
-- Melanie Yeager