'Breaking barriers': Marketing professor Maura Scott named Rockwood Eminent Scholar
---
'Breaking barriers': Marketing professor Maura Scott named Rockwood Eminent Scholar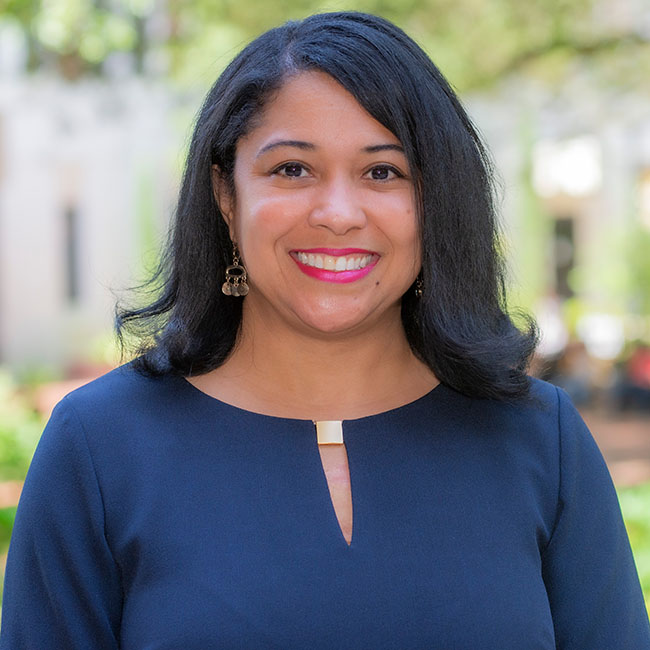 Florida State University marketing professor Maura Scott finds herself reflecting on the legacy of Persis Rockwood, the late FSU marketing professor who established so many firsts that she might as well have trademarked the word.
Rockwood became the first woman to earn a doctorate in marketing from Stanford University, the first woman to attain the status of full professor of marketing at FSU and the first woman elected as president of the Southern Marketing Association, now the Society for Marketing Advances.
"Persis E. Rockwood remains an inspiring trailblazer with many 'firsts' to her name," Scott said. "I can imagine the challenges, as well as the sense of accomplishment, Dr. Rockwood must have experienced as she trailblazed in her profession, leaving a path for those coming after her."
A pioneer herself, Scott — the first African American woman to become a full professor of marketing at FSU — intends to stay that course as the FSU College of Business' new Dr. Persis E. and Dr. Charles E. Rockwood Eminent Scholar in Marketing.
She joins six other business faculty members to hold the status of eminent scholar. FSU established the eminent scholar chairs to attract outstanding faculty members and to provide excellence in teaching and research in designated scholarly fields.
Rockwood, who died last year at age 97, and her surviving husband, Charles Rockwood, professor emeritus of economics at FSU, provided the funding for the eminent scholar chair that Scott now holds. It is part of a recent $10 million gift that created the Dr. Persis E. Rockwood School of Marketing, the first U.S. marketing school named for a woman.
"Persis Rockwood was a College of Business legend and a selfless pioneer in marketing scholarship and academic diversity, and I can't think of a better person to carry her name and torch than Maura Scott," said Michael Hartline, dean of the College of Business. She tirelessly champions the exploration of ethics, inclusivity, gender equity, racial equality and other award-winning research, he said.
Scott's work focuses on, for example, ways in which organizations can simultaneously manage their bottom line and make life better for their customers. As such, she aims to improve consumers' ability to make decisions on finances and health and to emphasize — in this age of information and automation — the role companies can play for the good of everyone.
She also continues to win prestigious grants and recognition, including the American Marketing Association's 2021 Williams-Qualls-Spratlen Multicultural Mentoring Award of Excellence.
A legacy of leadership
"Maura is one of the leading scholars doing work that applies marketing strategies to solving some of the world's most vexing challenges, including obesity, banking deserts and diversity, equity and inclusion, with a particular emphasis on the world's most vulnerable populations," said Mike Brady, director of the Dr. Persis E. Rockwood School of Marketing. "She exemplifies a scholar motivated and guided by excellence, mission and purpose. We're privileged to call her a colleague and delighted to honor her as an eminent scholar."
She's the first — there's that distinction again — African American to serve as joint editor-in-chief of the Journal of Public Policy & Marketing and the first African American to serve as president of the American Marketing Association's Academic Council. She also serves on the board of directors for the Association for Consumer Research.
Also, Brady hails her as one of a few global scholars who has served as an area editor or editorial review board member for five of the six top marketing journals in the Financial Times research rankings.
"As a woman and an under-represented minority, my journey has been different than that of many of my colleagues," Scott said. "There is no denying that I have encountered challenges, which Dr. Rockwood certainly also faced as a female business professor in the 1960s.
"Yet, being a 'first' can bring value that can elevate the entire community by galvanizing those distinct experiences, perspectives, ideas and approaches to problem-solving, as we work together to address society's grand challenges."
A profession with purpose
Before becoming a professor, Scott worked in marketing management for Fortune 500 companies including 3M, Motorola and Dial Corporation. She enjoyed her work but always felt a tug from academia, where she could inspire students and use her professional background as inspiration to explore ways in which companies could do more to advance the greater good.
"I saw the role of a professor as one that could have a profound, positive impact on the lives of young people, just as my professors had on me," Scott said. "I was also convinced that organizations could do more than emphasize their bottom line, that firms could in parallel emphasize being a good citizen in the world — and that rigorous academic research might support this two-dimensional goal.
"I am delighted to say that as a professor, I have had the opportunity to work toward these two aspirations: supporting students and advancing knowledge."
In her research, Scott aims to understand marketplace factors that promote individual, societal and environmental well-being and ways in which such well-being can strengthen organizations. She carries a belief that "as business professors, we have a responsibility to generate and disseminate knowledge that can help inform and advance business, as well as society's greater good; and we accomplish this by taking an inclusive approach to addressing real world research problems that can help improve society."
She also studies ways in which technology affects well-being. A study with her husband, fellow FSU professor Martin Mende, and others in the Journal of Marketing Research found that the stressful and eerie presence of a humanoid service robot, or HSR, prompted consumers to cope by "choosing a status product, seeking social affiliation and increasing their caloric intake."
"As marketers venture into the realm of service robots, they need to account for the contexts in which HSRs are being used and consider contextual facets that drive or mitigate consumer responses," the study said.
Scott said she finds her students, undergraduate and doctoral, increasingly interested in research that relates to well-being, responsible business practices and United Nations Sustainable Development Goals.
"Our College of Business students are interested in having successful careers, and they realize they have options," Scott said. "Many want to work for organizations that not only offer upward mobility but that also demonstrate ethics, respect and compassion in terms of how they treat individuals, communities and the environment."
Meanwhile, Scott aims to continue to teach and explore in the spirit of Persis Rockwood, who in 2018 became one of the first seven faculty members – and the first woman – inducted into the FSU College of Business' Charles A. Rovetta Faculty Hall of Fame.
"The Dr. Persis E. and Dr. Charles E. Rockwood Eminent Scholar Chair in Marketing is a very dear and important aspect of my scholarly journey," Scott said. "It helps to support my vision for breaking barriers and becoming the first in new areas that can help to make a positive difference in the world while paving the way for the those coming after me."
-- Pete Reinwald
###
Read more about Scott's research, which includes an exploration of increased access to health care for all, in this recent Q&A she did with the FSU College of Business.