Dr. Hold to graduates: Believe in and invest in yourself
---
Dr. Hold to graduates: Believe in and invest in yourself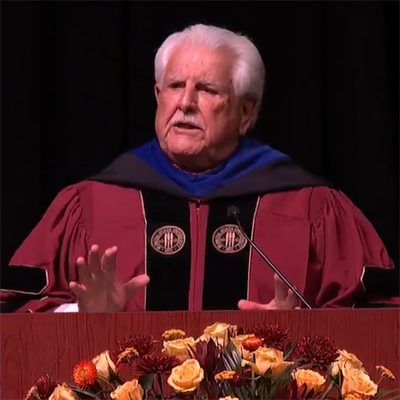 Dr. William T. Hold asked hundreds of students to raise a hand if they'd ever been told that they could be anything they wanted to be.
Up went the hands.
"That's probably one of the biggest lies you've ever been told – maybe the biggest lie you've ever been told – because regardless of how much I want to be a brain surgeon, an astronaut or the next Tom Brady, that's not going to happen," Hold said. "But the important part is that you can own your potential."
Hold offered words of frankness, optimism and wisdom Friday as the featured speaker at a fall commencement ceremony that included the College of Business and 10 other Florida State University colleges.
Hold, the namesake of the college's No. 3-ranked Dr. William T. Hold/The National Alliance Program in Risk Management, drew on his experience as a former FSU business student who arrived in Tallahassee with little to his name but potential. He also spoke as a former professor, as the co-founder, executive chairman and retired president of The National Alliance for Insurance Education & Research and as a larger-than-life benefactor of the College of Business.
"Realizing your potential is one of the greatest responsibilities of life," Hold told students. "Every one of you here has a potential with a lot of dimensions, various elements both God-given and those you've developed through the support of others, your determination, self-discipline, the opportunities you face and take advantage of and continually learning."
Early in the ceremony, FSU President Richard McCullough saluted Hold as an innovator, a global leader in the field of insurance and risk management and a "proud Florida State alumnus and Seminole Booster."
McCullough shared the story of Hold's arrival in Tallahassee in the late 1950s "with nothing but a small suitcase and a big drive to make it on his own."
Hold took a couple of insurance courses and caught the attention of Ray Solomon, a faculty member who would become business dean. Solomon, who died in 2019, offered Hold a $450 scholarship and later helped him get a fellowship at the University of Wisconsin at Madison, where he would earn his master's and doctorate degrees.
While at FSU, Hold even started his own business, Bill's Dry Cleaning.
Hold would give back handsomely: Ten years ago, he and The National Alliance invested $5 million in the college to further build an already highly ranked RMI program, which today bears their names.
The college inducted Hold into its Alumni Hall of Fame in 2012, and the university awarded him an Honorary Doctor of Humane Letters degree in 2021.
"So, to us, he's 'Dr. Dr.' Hold," McCullough said with a smile.
"He's a very special person for Florida State University. He represents so many aspects of excellence across so many dimensions that we're so proud to call him our own."
Themes from Hold's commencement address included:
Potential: "I could never imagine – never imagine – that I'd have the honor of being able to speak to you folks today, so we need to keep on asking ourselves questions like, 'What really is my potential? Am I doing the right thing to realize that potential?' To own your potential, you can't allow yourselves to be distracted about issues and things that you can't control."
Confidence: "Believe in yourself. Never forget that you can succeed when other people don't believe in you, but you will never succeed if you don't believe in yourself."
Excellence: "The greatest enemy you have is being average. What you want to be is the uncommon person."
Character: Focus on "your integrity, your ethics, honesty."
Direction: "Is there a greater feeling in life than knowing what you're doing? You walk into a room, you walk into your classroom, and you know what's going on. You don't want to be like a lost ball in tall weeds. … Look out and see where you are."
Self-investment: "You are the best investment you can ever make in your life … and when you invest in yourself, guess what happens. Other people invest in you. But you have to take the first step. You're going to determine your life's message, and your name is going to be your brand."
Greatness: "Right now, that diploma, that sign, that you'll receive is unlit. It's dark. And it's up to each of you not only to light that sign but to make it a beacon for other people to follow, because whether you like it or not, you are a very important part of the continued greatness of Florida State University."
Legacy: "The true meaning of your name and your life's message is going to be answered by one simple question: Did you ever make a difference in anybody's life?"
-- Pete Reinwald