FSU researcher: Comparatively poor maternity benefits can prompt new mothers to leave their jobs
---
FSU researcher: Comparatively poor maternity benefits can prompt new mothers to leave their jobs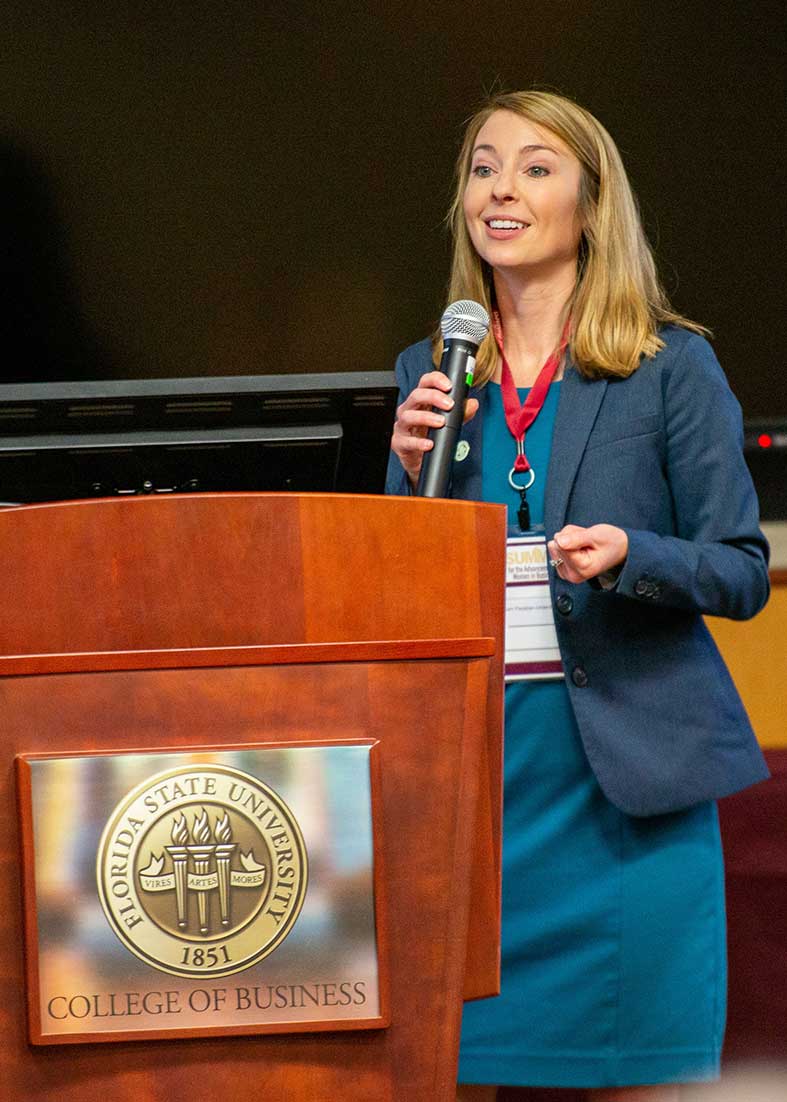 If companies want to ensure that pregnant women and new mothers stay on their payrolls, they'd do well to offer competitive maternity benefits. They'd also want to hire and retain supportive managers and leaders.
So suggests new research by Samantha Paustian-Underdahl, the Mary Tilley Bessemer Associate Professor of Business Administration in the Florida State University College of Business.
Paustian-Underdahl's findings indicate that when women see their maternity benefits as less favorable than those of others, they perceive comparatively higher pregnancy discrimination – influencing their decisions to leave their jobs. The study also suggests that the effects of those perceptions significantly decrease when pregnant women and new mothers perceive support from their supervisors.
The paper – "Examining the role of maternity benefit comparisons and pregnancy discrimination in women's turnover decisions" – was published online in February and will appear in a coming print edition of Personnel Psychology, a scholarly journal that publishes psychological research with a focus on the workplace.
FSU business doctoral student Andrew Keyes, who studies organizational behavior and human resources, co-authored the study, as did faculty members Laura M. Little of the University of Georgia, Ashley M. Mandeville of Florida Gulf Coast University and Amanda S. Hinojosa of Howard University.
"Our study is the first to show that maternity benefits, specifically, can be very important for retaining pregnant women and mothers in the workplace," Paustian-Underdahl said. "We think investing in these benefits and investing in supportive supervisors are really important" if organizations want to hold on to their female employees.
For working pregnant women in this country, Paustian-Underdahl says, the problem starts with accessibility to benefits. The United States remains the world's only high-income country, as defined by the World Bank, that doesn't guarantee paid leave for mothers of infants, according to the World Policy Center.
The U.S. Family and Medical Leave Act, or FMLA, stipulates up to 12 weeks of leave for eligible employees of covered employers for the birth of a child and care for a newborn. But only a little more than half of the private-sector workforce qualifies for FMLA, Paustian-Underdahl's paper points out, and participating employers are not required to pay employees who choose this benefit. Only 24% of private-industry workers and 27% of state and local government workers had access to paid family leave in 2022, according to the U.S. Bureau of Labor Statistics.
"There are many examples of companies that offer very good maternity benefits, but most people in the United States work for smaller companies that offer none at all," Paustian-Underdahl said. "That means many women must really patch together their maternity leave through, for example, short-term disability insurance, if they have it, and any unused paid time off or unused vacation days."
Citing previous research, the new findings emphasize concepts of identity threats and perceived value for working pregnant women: Upon learning of her pregnancy, a woman undergoes an identity transition from a working woman to a pregnant working woman. And because coworkers and supervisors often perceive pregnant workers as fragile, less competent and less committed to their jobs, pregnancy can initiate fear of stigmatization at work in women.
The research shows that as women compare their maternity benefits to those of working pregnant women and young mothers at other organizations, they will link "unfavorable maternity benefit comparisons" to "feelings of perceived discrimination at work."
The research team's work also revealed that supportive supervisors weaken the negative influence of unfavorable maternity benefits on this perceived discrimination. Conversely, less supervisor support strengthens that negative influence.
"Organizations that maybe don't have the budget to provide more maternity leave benefits could at the very least make sure they're training their supervisors to be supportive," Paustian-Underdahl said. "That can help ensure that pregnant women feel supported, are not experiencing discrimination and are more likely to stay with the company."
The findings emerge from four studies in the research team's paper. They include two field studies in which researchers gave surveys to women working in different organizations across the U.S. The first study measured, at different points in their pregnancies, women's perception of their maternity benefits compared with others, perceived supervisor support, perceived pregnancy discrimination and their turnover intentions. The second study followed the same data-collection process, but measured whether the mothers, 12 months after the birth of their babies, had remained at their organizations.
Researchers also conducted two experimental studies in which they asked women to imagine they were currently pregnant and to review a workplace scenario. The first experiment described maternity benefits that were more or less favorable, then measured perceived discrimination. The second experiment manipulated pregnancy discrimination to be higher or lower, then measured turnover intentions.
"All four studies in our paper found support for the finding that unfavorable benefits influence women's turnover through perceived pregnancy discrimination," Paustian-Underdahl said.
Women often don't disclose their pregnancies to their employers until after the first 12 weeks or so, she said. Yet a review of maternity benefits gives them an impression of how the organization might treat them.
"If women are thinking, 'Wow, my company has amazing benefits compared to my referent others. I'm really getting a lot of support. My company must really value me. They must really want to support mothers and pregnant women,' they're much less likely to perceive discrimination down the road," Paustian-Underdahl said.
On the other hand, she said, poor comparative benefits lead working pregnant women to perceive discrimination after they tell their employer about their pregnancy.
"And we know that if you perceive pregnancy discrimination," Paustian-Underdahl said, "you're more likely to want to leave that organization to work somewhere that is more supportive of mothers."
-- Pete Reinwald