Surge in graduate applications leads to record enrollment
---
Surge in graduate applications leads to record enrollment
Bucking national trends, the Florida State University College of Business' new master's student enrollment skyrocketed to 932 students for 2020, more than doubling the 434 students starting in 2019. 
The Master of Business Administration (MBA) program led the way, adding 405 students to its ranks, a 158% jump over last year. The year also yielded more master's students in Accounting (MAcc), Business Analytics (MS-BA), Finance (MSF) and Management Information Systems (MS-MIS) and maintained a healthy cohort for its master's program in Risk Management and Insurance (MS-RMI).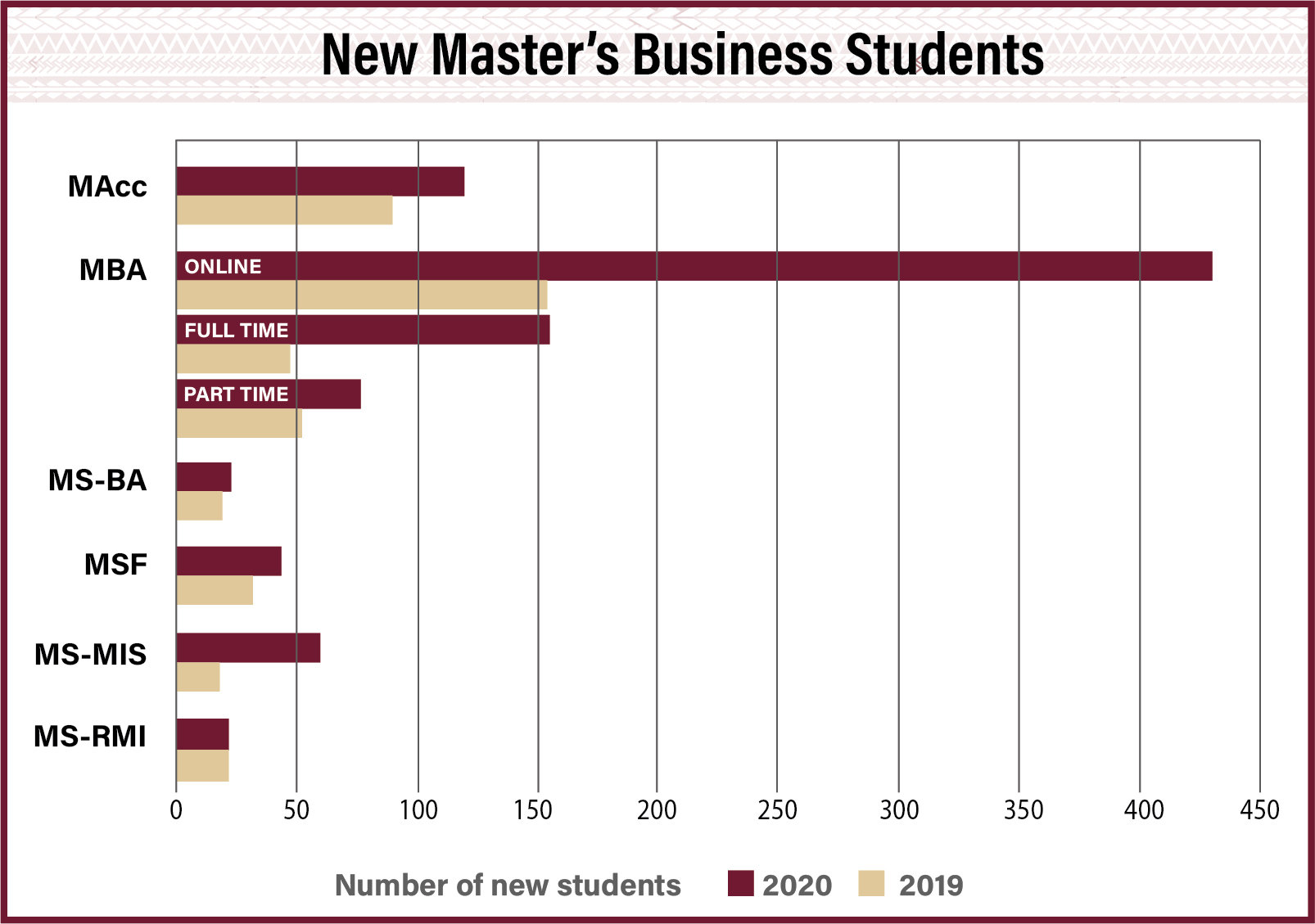 The enrollment climb culminated with unprecedented increases this fall semester across all MBA formats. "Our full-time MBA admissions more than tripled, and our online MBA admitted more in one semester than it typically does over two calendar years," said Michael Hartline, the college's dean. 
That's not the new normal nationwide as more schools faced with tightening budgets, declining interest and now COVID-19 limitations decided to end their MBA programs on campus. Before the pandemic, U.S. business schools were already seeing an overall decrease in graduate applications. Given the new uncertainty, nearly half of schools expected enrollment decreases this fall, according to a survey of business deans earlier this year by the Association to Advance Collegiate Schools of Business (AACSB International). 
By comparison, FSU's graduate business enrollment continues to rise, and the college welcomed a surge in June 1 applications for fall entry. The influx brings the college's total of enrolled master's students to 1,258 for fall. The class held strong on diversity with 35% from underrepresented minorities.
Newly admitted FSU students seem as determined as ever to pursue a graduate degree, hoping to advance their careers and expand their industry connections.
Max Parker, a project manager at Indiana-based Weston Foods, said he sought out FSU's online MBA program after a recommendation from a work colleague. 
"After conducting research into the program, I came away impressed by the prestige, affordability and customization options with the specializations," Parker said. "The online program checked all the boxes for me." 
Parker said the current business climate provided the flexibility he needed to balance his work schedule with the demands of going back to school. "FSU waiving the GMAT requirement was what ultimately allowed me to go for it and start this fall," he said. 
Concerned that the COVID-19 pandemic could slow down graduate applications, FSU dropped the GMAT or GRE exam from the list of admission requirements for fall entry campuswide. The College of Business no longer offers this automatic provision but will continue to waive the requirement for highly qualified candidates with significant work experience and those with high GPAs from AACSB-accredited schools. 
The waiver and COVID-19 had a minimal impact on Nicholas Coons' decision to return for graduate education at his alma mater. 
"I've already had a fully remote job and a desire to complete a master's degree for some time now," said Coons, a 2016 MIS graduate who works as an insights analyst for Dynatrace in Winter Park, Florida. "I chose FSU's online MS-MIS program because it was a perfect fit with my current work situation, and the overall cost is unrivaled compared to many of the top MIS programs." He said he expects to receive the same high quality of education he received as an FSU undergraduate. 
Mariana Saca also chose to stick with the school she knew best for her MBA. 
"I chose FSU's full-time MBA because of the accelerated aspect; you get to finish the whole program in one year. I'm also a proud FSU alumna," said Saca, who completed undergraduate majors in marketing and MIS earlier this year. 
FSU long ago transformed its traditional two-year, on-campus MBA program into one streamlined year. In response to COVID-19 concerns for this school year, the college has moved most of its face-to-face master's courses to remote instruction.
"Fortunately, we already know that we excel in a virtual world," Hartline said. "We have long relied on our full-time graduate faculty to teach both online and on campus, and we take pride in offering the same high-quality instruction and individual attention regardless of delivery format." 
The college is already accepting graduate applications for 2021. Visit graduatebusiness.fsu.edu to learn more about specific programs, start dates and application deadlines. Or, complete our request form to receive more information by email. 
-- Melanie Yeager