Harmeling's research helps Amazon vendors differentiate their wares, make that sale
---
Harmeling's research helps Amazon vendors differentiate their wares, make that sale
With more than 350 million products listed on Amazon, competition among vendors is fierce. The College of Business' Colleen Harmeling and a team of researchers have partnered with a branding company to help Fortune 500 companies produce the most effective online customer experience so their products stand out and – bottom line – persuade shoppers to click "buy now."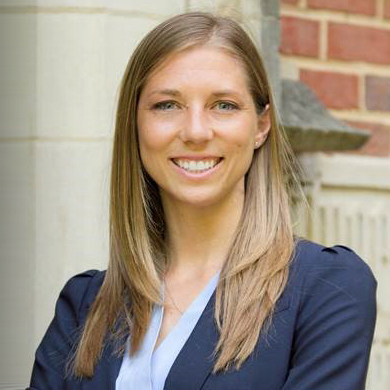 "Creating effective customer experiences through well-designed product web pages depends on each seller's ability to employ design elements on the product web page that not only convey information, but also entertain, imply human interaction and mimic sensory experiences from the offline world," said Harmeling, assistant professor of marketing and a Dean's Emerging Scholar. "Our research gives managers clear guidelines on which experience best fits their particular product characteristics and how to build web pages that evoke that experience to give businesses an important edge."
A paper she co-authored based on the Amazon research, "Creating Effective Online Customer Experiences," is slated to appear in the March 2019 issue of the American Marketing Association (AMA) Journal of Marketing – the premier academic journal in the field.
Harmeling's research focuses on engagement marketing theory and strategy and has been featured in many of the top business journals, including the Journal of Marketing, Journal of Academy of Marketing Science and Journal of International Business Studies. She also serves on the editorial review board for the Journal of Marketing, Journal of Academy of Marketing Science, Journal of Service Research and Journal of Retailing.
Her work has received widespread acclaim.
What Amazon Shoppers Want
Dr. Harmeling and a team of researcher's study identified and ranked four aspects of the online experience that motivate a shopper to make a purchase. They are:
1. Enjoyment – This aspect drives purchase intent more than any other. Shoppers are more likely to click the "buy" button if they get pleasure out of interacting with a brand's content.
2. Social Presence – A good product page makes shoppers feel like they're interacting with a human instead of a machine. Surprisingly, this aspect is the second most critical driver of online sales.
3. Informativeness – Helpful information increases a shopper's sense of control. Creating an informative experience is key to success for established, well-known brands.
4. Vividness – A vivid experience appeals to a shopper's senses. Content that creates this experience (think video) can help sell products that are hard to evaluate without direct experience.
A paper, "Group Marketing: Theory, Mechanisms, and Dynamics," earned Harmeling and her co-authors the journal's prestigious Shelby D. Hunt/Harold H. Maynard Award, which recognizes articles making the most significant contributions to marketing theory in a given year. The paper also was nominated for the Marketing Science Institute H. Paul Root Award and selected for the AMA Scholarly Insights series, a digital digest of the latest findings from marketing's top researchers. Another of Harmeling's papers, "Transformational Relationship Events," won the Center for Service Leadership Leading Edge Service Research Award.
Before coming to Florida State University, Harmeling was a Postdoctoral Research Fellow at the University of Washington's Foster School of Business. She earned her Ph.D. from the John Cook School of Business at Saint Louis University.
She said working as a marketing coordinator for the Gasparilla Distance Classic Association in Tampa and as a community relations marketing training manager at Barnes & Noble Bookseller, also in Tampa, sparked her interest in delving into the customer engagement experience and led her to academia.
"Colleen is clearly a rising star in the marketing field and her reputation as a top scholar is great for the FSU brand," said Michael Brady, chair of the Department of Marketing and the Bob Sasser Professor of Marketing. "Her research covering online engagement is particularly relevant since the retail industry continues to gain momentum on that platform."
- Barbara Ash
12/1/18