Honors Program Welcomes New Seneff Scholars
---
Honors Program Welcomes New Seneff Scholars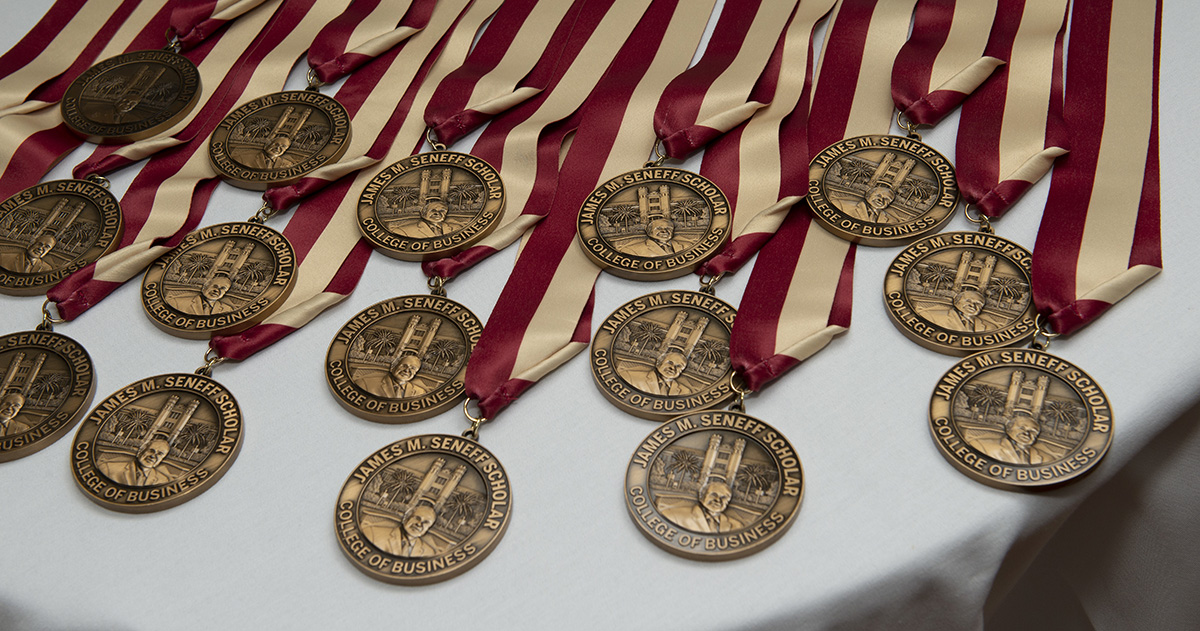 The highly competitive James M. Seneff Honors Program recently welcomed a new cohort of 14 College of Business students. The program, which dovetails with the university's Honors Program and Garnet and Gold Scholar Society, is available to a select number of motivated university honors students majoring in business.
The new Seneff Scholars join the 16 members of the inaugural 2019-2020 cohort, who are acting as mentors for the new class. Both groups gain experience and knowledge through educational activities, volunteer experiences and networking activities. They also have priority access to honors courses in the college, special meetings with elite business leaders, an individualized mentorship program and unique professional development opportunities.
"The program offers unique possibilities, such as meetings with elite business leaders, networking activities and a mentoring program," said Luciano Bettocchi (BS Finance '22). "I knew these would allow me to meet people who will help me progress in both my academic journey and future career. I am also someone who strongly believes that you become who you surround yourself with, so being a part of this program was a big goal of mine."
The program was established in fall 2019 through part of a $5 million gift to the college by the CNL Charitable Foundation to honor alumnus James M. Seneff (BS Business Administration '68), its founder, who also is founder and executive chairman of Orlando-based CNL Financial Group (CNL), a private investment management firm.
"While FSU has many rock-star students, we look for students whose drive to succeed extends beyond the classroom. We strive to build a group dynamic that embodies many of the same elements that have helped the FSU College of Business rise to preeminence," said Luke Hopkins, the program director and an associate lecturer in the Department of Marketing. "Our overall goal is to create a program that helps our top-performing students work together to become future leaders."
Beyond the traditional curriculum, Seneff Scholars are required to take a course taught by Hopkins. "This course is designed to mimic the graduate courses taught at the most elite business schools," Hopkins said. "By focusing on topics such as leadership development, managerial decision-making and applied business analytics, we feel our Seneff Scholars will be more prepared for the next step in their journey."
Scholars also will focus on a project, to be determined later in the academic year, that challenges them to go beyond traditional academic thinking as they approach various issues. "A central tenet of the James M. Seneff Honors Program is constant improvement," Hopkins said. "Although we have created an amazing program, we are aware that the best programs are those that consistently react and respond to change. Our goal is to provide not only a creative, cutting-edge learning environment, but also one that continuously evolves with the demands of industry and society."