Inside an FSU case competition team's improbable cross-country journey and top U.S. performance
---
Inside an FSU case competition team's improbable cross-country journey and top U.S. performance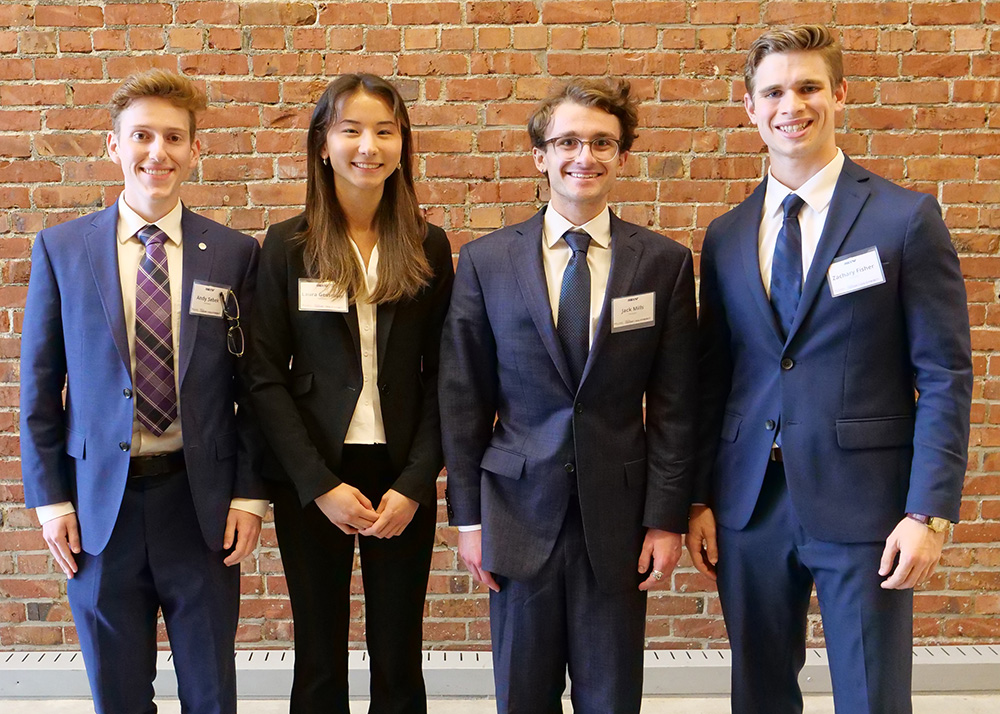 Four Florida State University students, including two from the College of Business, made a 3,000-mile trip two weeks ago to a competition in Tacoma, Washington.
But this was no mere journey. This was an odyssey that featured a storybook ending.
After missing their flight from Tallahassee and going about 24 hours with little to no sleep as they scrambled to make it to the competition on time, the team of Andy Sebek, Jack Mills, Laura Gessman and Zachary Fisher took second place and emerged as the top U.S. team in the prestigious Milgard Invitational Undergraduate Case Competition on Social Responsibility at the University of Washington.
The FSU team finished behind the University of Calgary and ahead of third-place University of Florida for their analysis of the corporate-responsibility efforts of Australia-based Qantas Airways.
The performance stands among a surge of recent impressive performances from teams featuring FSU business students, including first-place finishes in the Bayou Sales Challenge at Nicholls State University; the 2023 Finance Leaders' Conference in New York City's Baruch College; and the Student Managed Investment Fund Stock Pitch Competition at the University of Georgia's Terry College of Business.
"What an exciting run for the College of Business and Florida State University," said Michael Hartline, dean of the college. "These impressive performances against some of the top programs in the country reaffirm the quality, initiative and excellence of all these students, who reflect our commitment to preeminence."
He added: "I'm still amazed by what those four students went through to get to the Pacific Northwest and show an international field what this college and university are all about."
Sebek, a junior accounting and economics major; Mills, a sophomore economics major; Gessman, a sophomore political science major; and Fisher a sophomore finance major, starred in an extraordinary adventure that featured four airports, a 2½-hour car ride and an all-day, all-night marathon of determination, endurance and grit.
Here's their account:
Team members booked a 6 a.m. Tallahassee flight that would get them, after a connection, to Seattle at 10:30 a.m. Pacific Daylight Time. That would give them a day to explore the area, enjoy dinner with other teams and still be ready to start the competition at 8 a.m. the next day.
They arrived at Tallahassee International Airport at 5:15 a.m., admittedly later than they should have. Sebek, with TSA Precheck, breezed through his security line while the three others waited in a line that was imposing but progressing.
"All of a sudden, the line stopped," Fisher said. "And it didn't start moving again for another about 20 minutes."
Sebek waited at the gate as the line started moving again, then called Fisher to tell him that an airline agent was telling him to make a choice – get on the plane or miss the flight.
"I was thinking, 'I can get on this plane and potentially be the only person to make it out to Seattle to present our case, or I can stay off the plane,'" Sebek said. "We make it as a team, or we don't make it at all. That was the decision I had to make."
They didn't make it at all, at least on that flight: Just as Fisher and his teammates arrived to join Sebek at the gate, airline agents closed the aircraft door.
"I said, 'Are you kidding me?!'" Fisher said.
Team members immediately talked to gate agents, who told them that no other flights out of Tallahassee would get them to Seattle that day. The same went for flights out of Jacksonville, Atlanta, Orlando and Tampa. They asked one agent after another and got the same response: Sorry.
Sorry, indeed. The team members had spent two weeks working together on their presentation, staying up late and working through weekends while maintaining rigorous full-time academic schedules. Fisher estimated team members each put about 100 hours into preparation.
As they were leaving the airport, the team members saw one last hope – the airline's front desk.
One agent found them a flight that would leave Jacksonville at 2 p.m., with a connection in Philadelphia, a 3 ½-hour layover and a 10 p.m. PDT landing in Seattle – about 12 hours later than their original destination time.
They immediately drove 2½ hours to Jacksonville, arriving at the airport at 11:30 a.m.
In the meantime, Timothy Kinney, the team's sponsor and a senior lecturer in the Dr. Persis E. Rockwood School of Marketing, called competition officials, explained the circumstances and secured a later – 11:30 a.m. – first-round presentation time for the team.
"That gave them a couple more hours to sleep and collect their thoughts," Kinney said.
The team made the Jacksonville and Philadelphia flights and arrived in Seattle at 10 p.m. PDT.
"We were just appreciative of getting on a plane," Sebek said. "Zach (Fisher) turned to us as we were leaving the Tallahassee airport and said, 'It doesn't matter how well we do out there. We just need to get there. That's all that matters.'"
They checked into their hotel, in Tacoma, at around 11:30 p.m. – that's 2:30 a.m. EDT and almost 24 hours after waking up in Tallahassee.
Yet later that day, the team showed no fatigue, breezing through its preliminary round, with high expectations for the final round.
"We were hugging each other," Sebek said. "We knew that was a winning type of presentation."
In the final round, Fisher said, "we went on to the stage, and we just we just did our thing." The team secured its second-place finish, including first place among U.S. teams.
"It was the best presentation we had ever given," he said.
The team members said Qantas Airways, the company they chose for their case, resonated with them. Qantas boasts a commitment to achieving net zero emissions by 2050 and capping its net emissions at 2019 levels. 
Fisher called it "the best choice, the best airline to invest in, when considering ESG and sustainable initiatives."
Fisher, who says he has accepted a summer internship as a financial analyst with American Airlines, commended Sebek for producing a calculation that projected reductions in excess mortality and the social cost of carbon if Qantas meets its emissions goals.
"I think I'd speak for the whole team by saying that we all care about what we're investing in rather than just how much money it's going to make," Sebek said.
Fisher also lauded FSU's Case Competition Club, particularly club leaders and fellow business students Cole Clemons, Heeseo Han and Natalie Faith Timm. The club works rigorously to help students develop skills and experience and to place them in competitions – as it did for Sebek, Mills, Gessman and Fisher.
"I would want every FSU student in the College of Business to have the opportunity to participate in a club organization like this," Fisher said.
He'd even attempt another storied trip with his teammates.
"I wouldn't change it for the world," he said. "Our delay actually gave us more time to practice with each other on a script that we had each carefully and meticulously created. That whole experience really helped us bond."
-- Pete Reinwald