Lawyers provide insight for human resource professionals
---
Lawyers provide insight for human resource professionals
When it comes to diversity, equity and inclusion in the workplace, focus on company policies and don't try to "boil the ocean."
And expect waves of legal challenges once the U.S. Occupational Safety and Health Administration, or OSHA, drafts a rule to mandate that businesses with 100 or more employees require COVID-19 vaccinations or weekly testing for employees.
Those points stood as key takeaways from labor and employment lawyers who spoke Wednesday during the Center for Human Resource Management's fall advisory board meeting.
Linda Bond Edwards, a Tallahassee-based partner at RumbergerKirk, focused on how business and human resource executives could improve organizational policy and management practice in diversity, equity and inclusion. To illustrate a point, she used the term "Don't try to boil the ocean," which she said she heard recently from a leader of a global professional services company.
"I liked it because sometimes I think that's what organizations try to do," Edwards said during Wednesday's Zoom meeting. "They try to have this all-encompassing program that doesn't go anywhere. It starts out with a splash, and it becomes a little trickle after a few years. I try to encourage organizations to look at where you are and look at where you want to go."
Jeffrey Slanker, a Tallahassee-based lawyer and shareholder at Sniffen & Spellman P.A., emphasized workplace issues related to COVID-19, including how to respond to employees who don't want to return to the office and what to expect in legal challenges to President Joe Biden's vaccinate-or-test mandate. He also provided ideas for employers who get employee requests for pandemic-driven accommodations.
"I think if you do a good job of communicating with your employees, if you've got a clear plan, if you are consistent in how you apply evaluations of accommodations requests, you're going to be able to avoid litigation exposure," he said.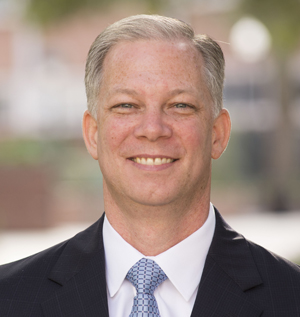 Darren Brooks, assistant department chair and associate lecturer in the College of Business' Department of Management and director of the Center for Human Resource Management, said the two lawyers provided insight and expertise on topics at the "top of mind for most executives today."
The Center for Human Resource Management stands within the College of Business's Department of Management, and its advisory board features 21 business and human resource executives who advise the center and the department on the current and emerging nature of human resource management practice.
College of Business students and faculty members joined board members for 90 minutes of Zoom presentations from Edwards and Slanker, including questions and discussion from board members.
Diversity and culture
Edwards urged company officials to focus on policies that promote and sustain diversity, equity and inclusion, or DEI.
"Your current policies ought to lead your organization to a culture where DEI can originate and then thrive," she said.
She asked employers to consider their policies on sexual harassment and whether those policies encourage employees to come forward when they feel victimized.
"Look at how they're treated when they come forward," Edwards said. "Often, there is questioning about their credibility. There is questioning about why (they) didn't say something sooner, and then the stigma begins."
She urged companies to check whether reporting procedures for discrimination and harassment create a culture "where persons who are diverse feel welcome."
"It doesn't matter what the diversity is, whether it's disability, whether it's sexual orientation, whether it's an economic issue where you're trying to have as broad a definition of diversity as you can," she said. "How do your policies create a culture that allows you to put DEI principles in place?"
She also asked employers to consider whether their compensation policies "reflect an organization where DEI is important."
Employers should ask themselves on what they're basing compensation, Edwards said.
"Is it education? Is it experience?" she asked. "What is it? And then really apply those principles to every person in a particular job category and see where your males, your females, your employees by race – see where there is a concern."
In terms of pay equity, she brought up the story of Dan Price, CEO of Gravity Payments. Price reportedly cut his salary from about $1 million to $70,000, which he established as the minimum salary throughout the company.
"Did he have any issues creating a diverse work force?" Edwards asked. "I don't think so."
In terms of legal implications, she said, "Don't allow a plaintiff to analyze your compensation practices better than you do."
And consider what happens when you ask a prospective employee about prior salaries, she said.
"If they have been historically underpaid," Edwards said, "all you're doing is perpetuating it."
"Your current policies ought to lead your organization to a culture where DEI can originate and then thrive."

— Lawyer Linda Bond Edwards
'The big issue'
Slanker spent much of his presentation on what he called "the big issue" – President Biden's recent announcement that companies with 100 or more employees would have to require workers to get COVID-19 vaccinations or submit to weekly tests.
Biden has directed OSHA to establish a rule for the mandate, and reports say companies in violation of the rule could be fined $70,000 to $700,000.
Slanker said OSHA's coming so-called emergency temporary standard faces certain legal challenges. The standard lacks the formalization and public input of other government rule-making processes, he said, and courts have struck down many of the agency's previous emergency temporary standards.
Also, he said, the federal government must "prove a 'grave danger' (from COVID) to workers and employers for the emergency temporary standard to withstand a legal challenge."
"This is a really difficult burden from a legal perspective to meet," Slanker said.
He expressed uncertainty whether the mandate would hold up in court.
"I think there's going to be a lot of judges who have a problem with this type of rulemaking, without any input from the public," he said. "It's not a law. It's not enacted by Congress … and whether there is this 'grave danger' that necessitates the rule."
Edwards mentioned a 1905 case – Jacobson v. Massachusetts – in which the U.S. Supreme Court upheld a Massachusetts law that allowed cities to require vaccinations against smallpox.
"It's a little different standard than the 'grave danger' standard," she said, "but there is at least some precedent for upholding public-sector kinds of vaccine mandates."
Slanker noted that the U.S. Equal Employment Opportunity Commission, or EEOC, says it's acceptable for companies to voluntarily require office employees to get COVID-19 vaccinations.
"But exceptions have to be made for folks who need an accommodation based on disability or folks who have a sincerely held religious belief," he said. "Then it becomes an issue of, 'How do we accommodate you?'"
Regarding employees who resist returning to the office after more than a year of working from home, Slanker emphasized the importance of "training in the interactive process" and "a good policy, a good disability foundation policy."
Employers must identify whether an accommodation is necessary and, if so, what accommodation would allow an employee to do their essential job functions, he said.
Companies also want to make clear that "a presence in the office is something that is necessary or required and that's reflected in job descriptions: 'This is an exceptional circumstance; this is not the new normal,'" Slanker explained, quoting hypothetical company messaging during the pandemic. "`This is something that we have to do right now to be safe. But our expectation is that once it's safe, we're going to be back to (the office), and we'll evaluate additional requests as they come, as we would do in any situation.'"
-- Pete Reinwald