MBA students land dream project to promote FSU Women's Basketball
---
MBA students land dream project to promote FSU Women's Basketball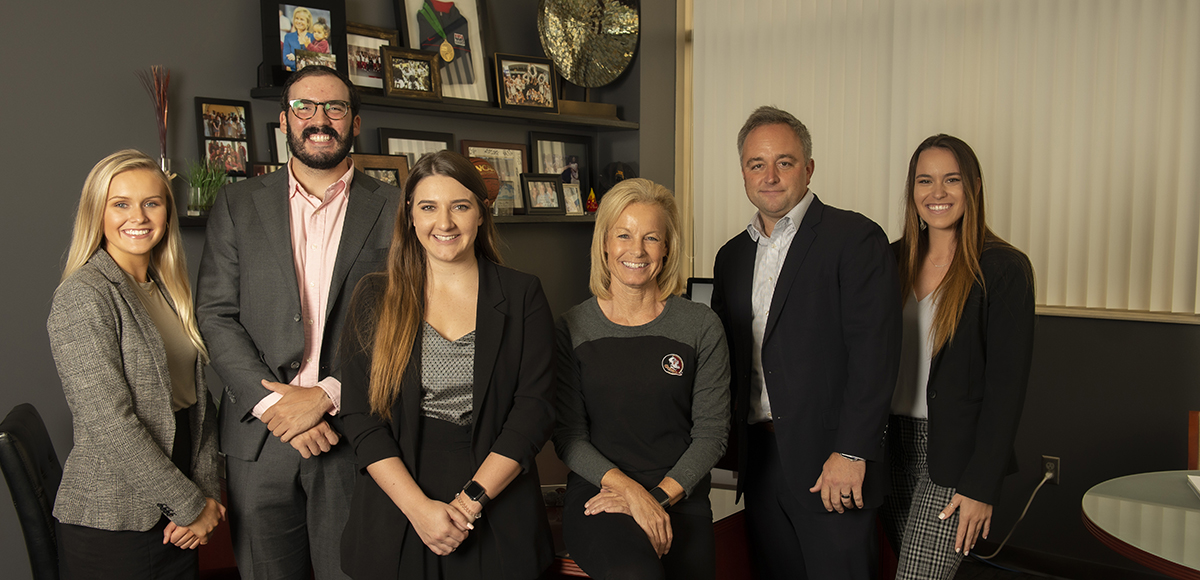 A team of Master of Business Administration (MBA) students jumped at the opportunity to help FSU women's basketball Head Coach Sue Semrau create a marketing strategy that highlights Semrau and her team's success, expands their loyal fan base and promotes game night as a can't miss event. 
It's a dream assignment for the four students, who are in the Florida State University College of Business' full-time, accelerated MBA program and have their eyes set on careers in some aspect of the sports industry. They are grateful for the opportunity.
"How many students get this kind of real-time, hands-on experience to actually create a marketing strategy and then implement it to achieve a real and sustainable impact?" said Eleanor Reidy, who earned her bachelor's degree in marketing from FSU this past spring and aims for a career in sports operations.
Over Semrau's 22 years at FSU, she has guided the Seminoles to 15 NCAA Tournaments, including three Elite Eight appearances in 2010, 2015 and 2017 and five NCAA Sweet 16s in 2007, 2010, 2015, 2016 and 2017; won a pair of gold medals with USA Basketball; and has seen more than 40 student athletes earn academic all-conference honors. As successful as the team has been on the court, Semrau's program also is known for its commitment to developing strong women of character and empowering lives in and outside of Tallahassee.
"We're thrilled to be able to tap into the energy and fresh, out-of-the-box ideas and approaches these talented MBA students bring to the table," Semrau said. "Helping us expand our fan base is a major component of what we've asked them to do. We want to enhance the experience for our fans so we can fill seats, and we know this also will help us recruit the country's most talented players."  
When Steve Mudder (FIN '95), a member of the college's Board of Governors and the FSU Foundation Board of Trustees, got to know Semrau and her team, he was immediately impressed.
"Sue is very charismatic and her team is incredibly successful" said Mudder, an entrepreneur and head legal counsel for international investment firms. "I wanted to do what I could to help the team and our business students so I got in touch with the college's marketing department. I thought this would be an excellent experience for the students who are making the most of this opportunity.
Supervised by Luke Hopkins, associate lecturer and assistant chair of the marketing department, the students spent much of the summer – and will continue throughout the academic year – meeting with Semrau and her administrative team to strategize and present ideas and implementation plans. In addition to Reidy, the MBA students working on the project include Madison Poole, Brandon Rosen and Hunter Wieder.
"We are learning so much. And it's pretty exciting to see our ideas take shape and become a reality."
- Eleanor Reidy, MBA student
"The students have approached the entire initiative with a high level of professionalism and the strategic insight one would expect from MBA students in a top-notch program. I'm looking forward to continuing this partnership with Coach Sue."
For his part, Rosen – a die-hard sports fan who earned his undergraduate degree in marketing from FSU in 2017 and is shooting for a career in digital marketing with a national sports team – is impressed by the inner workings of Semrau's program. 
"It's interesting to see the thought and attention to detail that goes on behind the scenes of a major collegiate sports team to engage with fans and create an atmosphere that makes each fan feel like they matter to the team's success," Rosen said. "Working with Coach Sue is phenomenal. We know we have her full attention when we're with her and that she's open to new ideas. Her enthusiasm and energy are infectious, which encourages our creativity."
From identifying new target markets and vehicles for reaching those markets, creating key messages, brainstorming innovative ideas to showcase players at community events and piggy-back on other FSU sporting events and national awareness campaigns, the students take their role seriously. And they're grateful for the opportunity. 
"We are learning so much," Reidy said. "And it's pretty exciting to see our ideas take shape and become a reality."