No. 5-ranked Real Estate Program 'turbocharged' for preeminence
---
No. 5-ranked Real Estate Program 'turbocharged' for preeminence
You can chase the rankings.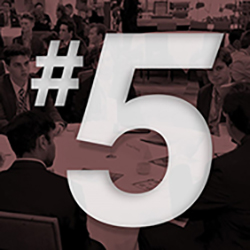 Or, you can let the rankings chase you.
"We think the rankings are important," said Dean Gatzlaff, a longtime faculty member and leader of the Real Estate Program at Florida State University's College of Business. "They're important to our college, administration, alumni and students, and they certainly generate a lot of interest in our program."
But he added: "We try to build the program, do really well and let the rankings follow that."
The rankings have been following all right.
The college's Real Estate Program ranks No. 5 among public universities and No. 8 among all universities for a second straight year. Housed in the Department of Risk Management/Insurance, Real Estate and Legal Studies, the program remains on an upward trend from a No. 7 ranking among public universities and a No. 11 ranking among all universities three years ago.
Officials in the program point to familiar hallmarks: top-notch students, world-renowned faculty members, supportive administrators and engaged alumni. And alumni have been as engaged as ever amid the coronavirus pandemic, as the real estate market yields new trends and as the industry offers graduates a rush of professional opportunities.
Together these groups drive the FSU Real Estate Center, which Gatzlaff calls the program's "turbocharger." The center extends learning experiences beyond the traditional classroom, secures resources to attract and retain top faculty and strengthens the program's relationships outside the university, among other services.
Its premier event, the annual world-class FSU Real Estate TRENDS Conference, offers professional and student participants insights on industry trends and conditions.
The center also supports the Real Estate Society at FSU, a student organization that connects with professionals and alumni in the industry.  
"It's a cycle of success," said Yvonne Baker, who started work as the center's executive director in April. "It takes the faculty, the students, the administration and the alumni. For one to succeed, we must all succeed, and through these connections, we do – and the cycle continues. Without one piece of that group, the rest of it derails. The college and program have done an amazing job of creating camaraderie and respect among each of those elements."
Michael Hartline, dean of the college, hailed the Real Estate Program as a prime example of the college's march to preeminence. It secures a spot in the Top 10 or Top 25 with five other college programs: the No. 1-ranked Dr. William T. Hold/The National Alliance Program in Risk Management & Insurance, No. 16-ranked Management Information Systems, No. 17-ranked Marketing, No. 22-ranked Management and No. 24-ranked Accounting.
Also, the college's MBA specialty in real estate ranks No. 9 among public schools. Recently, the Master of Science in Finance program added the same highly ranked real estate specialty curriculum as an option for MSF students.
"We remain exceedingly proud of our Real Estate Program and all of the faculty, students, staff and alumni who continue to make it recognized among the top programs in the country," Hartline said. "We are determined to help the program reach even higher and to continue to do what it has done for years – produce some of the best real estate professionals, leaders and thinkers in the industry."
Among those are Brett Lindquist, a college alumnus who graduated in 1983 with degrees in real estate and finance. He says he continues to make good use of both degrees as co-founder and CEO of The Mortgage Firm, an Altamonte Springs-based mortgage lender that he says will close more than $3.5 billion in residential loans this year.
Lindquist says he doesn't recall rankings from four decades ago. But he remembers professors who motivated and inspired him.
"They got me interested in real estate," he said.
The program continues to tout its professors as widely cited researchers and dedicated teachers who are passionate about their students.
Faculty members aim to, as Assistant Professor of Real Estate Daniel Broxterman puts it, "build a better future by building knowledge."
"We feel an obligation to continue FSU's tradition of real estate research excellence," Broxterman said. "Ultimately, though, what keeps us plugging away on a knotty research question is a deep intellectual interest in the problem before us. And the same intellectual curiosity that we exhibit in the research enterprise, we hope to instill in our students."
Gatzlaff lauded a mix of younger and seasoned faculty members who have produced dozens of papers at conferences and symposiums over the past few years. They also have won prestigious teaching awards and remained engaged with national real estate organizations, he said.
Lindquist, chair of the college's Board of Governors, also attributed the program's success to alumni who give time and money, students who compete in and win real estate competitions, a curriculum that prepares students for the real world and a mission that emphasizes life-changing experiences and preeminence.
A major donor and contributor to the college and university himself, Lindquist credited Gatzlaff for having "created the vision and the focus on what would make us the best in the country."
The college recently honored Gatzlaff, who plans to retire in the spring after more than 30 years of service, with a named professorship. The Mark C. Bane Professor of Real Estate and interim department chair, Gatzlaff led the center for 24 years, including eight years as chair of the department.
Gatzlaff deflects all credit, noting the program's numerous builders, players and difference-makers.
Take the Kislak Family Foundation, he said. Since 2009, the foundation has contributed almost $2 million to the FSU Real Estate Center. That includes a $1 million gift from two years ago that provides scholarships to real estate students based on financial need.
Kislak's investments in the program also have funded sessions at the typically sold-out Real Estate TRENDS Conference, and they have allowed the FSU Real Estate Center to organize and host annual FSU-Kislak Market Strategies Forums throughout the state.
Such ongoing financial and industry support, especially from alumni, remains vital to preparing students for successful real estate finance and investment careers, college officials said.
"Our alumni actually call and say, 'Who can I talk to? What can I do?'" Baker said. "It's amazing the relationships that have been created and cultivated here."
The center maintains a database of about 7,500 alumni and other executives, organizations and connections who serve as guides, liaisons, mentors and partners.
It does so on behalf of an ever-increasing number of students who seek jobs in mortgage banking and institutional lending; real estate brokerage and leasing; appraisal and investment consulting; and real estate investment and development activities, among various other positions.
Baker said she has seen vigorous demand for entry-level jobs in areas such as valuation.
In commercial lending, Gatzlaff said, "we can't keep up with the companies that have been calling. They call and say, 'We want to hire somebody, and we want to hire them now.' For our students, there's never been a better time to pursue a career in real estate."
-- Pete Reinwald