In the spirit of its namesake, the fledgling Rockwood School of Marketing aims big
---
In the spirit of its namesake, the fledgling Rockwood School of Marketing aims big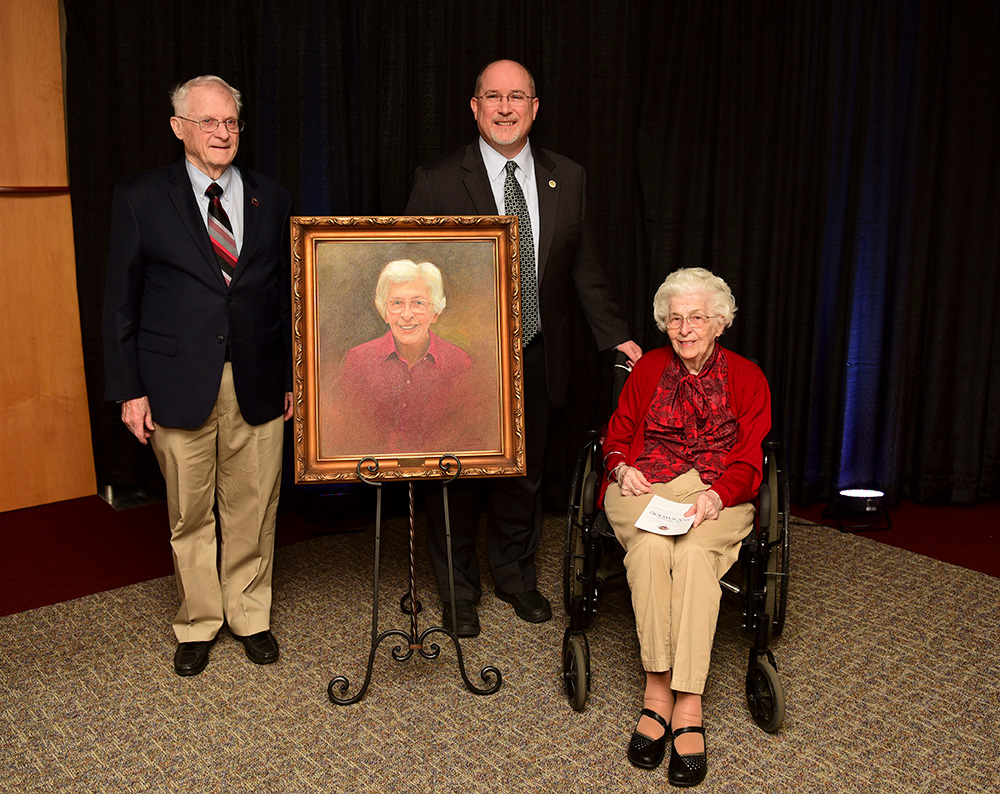 Toward one end of the shiny third floor of the Rovetta Business Annex, she grabs your attention.
Her face, and especially her smile, dominate an encased poster that tells you: "She lived with the future in mind."
A few steps from there, a sign at an entranceway reminds you that Persis E. Rockwood lives on.
"The Rockwood School of Marketing," said Mike Brady, director of the school and the Bob Sasser Professor of Marketing. "I can't read that – or say that – enough."
The Persis E. Rockwood School of Marketing stands as a fledgling gamechanger in the Florida State University College of Business. The school is the product of a $10 million gift last year from Persis E. Rockwood, a pioneering FSU marketing professor who died in May 2021 at age 97, and her surviving husband, FSU Professor Emeritus Charles Rockwood.
The gift turned the college's Department of Marketing into what is believed the first U.S. school of marketing named for a woman, and it immediately inspired college and university officials to reflect boldly about what it would mean for the college and its marketing programs.
"I'll keep saying it: The Rockwood gift is life-changing and game-changing for our college, especially for our marketing faculty members and students," said Michael Hartline, dean of the college. "It's historic and transformative, and we're thrilled to continue Dr. Rockwood's trailblazing spirit."
Now eight months old, the Rockwood School of Marketing bursts with promise, excitement and optimism, amplified from the October groundbreaking of Legacy Hall, the college's world-class future home. The Rockwood gift includes $1 million to fund, in the new facility, the Dr. Persis Rockwood Academic Programs Suite and the Dr. Persis Rockwood Academic and Behavioral Research Lab.
"We believe the Rockwood gift signals the next, and most important, stage of our growth," Brady said. "It provides resources and brand awareness that are essential for reaching our goal to become one of the most preeminent marking faculties in the world."
The Rockwood School marches onward with elite students, globally renowned faculty members and a No. 20 public-schools ranking for its undergraduate program from U.S. News & World Report – all under the banner of a Top 20 national public university.
'Great opportunities' for students
The school boasts a robust network of devoted alumni and corporate partners who employ its graduates. It houses the FSU Sales Institute, which provides rigorous professional sales education through research and applied training and conducts the annual International Intercollegiate Sales Competition, the world's largest of its kind.
The Institute also conducts the semi-annual Seminole Sales Showcase, a two-day sales competition that includes a career fair for all FSU students. Due to the hard work of faculty members and corporate sponsors, officials say, the school continues to make such student-immersion activities free to students – a significant perk that Brady said has helped drive enrollment to more than 1,600 students, beyond double that of eight years ago.
"We're here to give great opportunities to our students," he said. "We do that through meaningful connections with both corporations and alumni who provide great opportunities for them."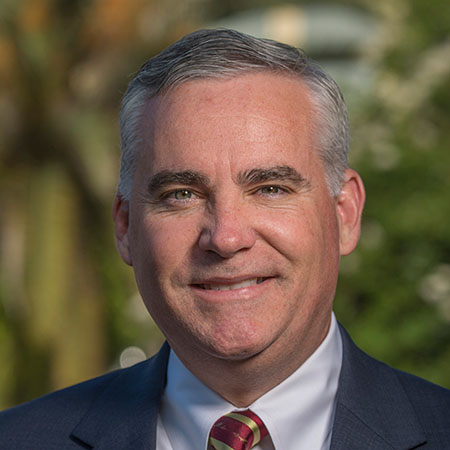 Most importantly, he said, the school continues to place at least 90 percent of its students in jobs before graduation and nearly all of them in jobs within six months after graduation.
Chuck Viosca, an associate lecturer in professional sales and director of the FSU Sales Institute, pointed to obvious inspiration for those achievements.
"Student success drives everything we do in the program, the Rockwood School and the college," Viosca said. "We provide students with a great education and open doors to their futures in sales and marketing."
College and school officials emphasize the global standing of the marketing faculty, which ranks No. 8 in the world for research at the intersection of international business. The school also ranks No. 14 in the world for publishing in the Journal of Marketing, according to the UTD Top 100 Business School Research Rankings.
A highly honored faculty
Joseph Cronin, the John R. Kerr Eminent Scholar in Marketing and Service Innovation, recently was named to the Top 2% of the most influential scientists on the Stanford University list for business and marketing.
Also, Daekwan Kim, the Spencer-Feheley MBA Professor, ranks No. 3 in the world for research at the intersection of innovation and international business. Kim also leads the college's annual Global Business Seminar, a course offered at the undergraduate and graduate levels that includes a week of corporate and cultural visits and a service-learning project among multinational companies in Strasbourg, France.
Others continue to receive recognition for contributions in the top of their fields. They include two faculty members who hold Rockwood-named professorships: Maura Scott and Colleen Harmeling, both of whom – following the example of Persis Rockwood herself – recently achieved FSU firsts.
Scott, the Dr. Persis E. and Dr. Charles E. Rockwood Eminent Scholar in Marketing, became the first FSU faculty member to be named a Marketing Science Institute Scholar, the highest honor a mid-career marketing scholar can achieve. Harmeling, the Dr. Persis E. Rockwood Associate Professor of Marketing, became the university's first marketing faculty member to be honored with the American Marketing Association's Erin Anderson Award, which recognizes emerging female marketing scholars and mentors.
Scott received her eminent-scholar designation last year as part of a $3.5 million endowment for faculty support that the Rockwood gift provided. Among other things, the gift also provided a $3 million endowment for student scholarships and professional development, plus a $2.5 million endowment for the Rockwood School's most pressing needs.
Rockwood became the first woman, in 1960, to earn a Ph.D. in marketing from Stanford University. She also became the first woman at FSU, in 1973, to attain the status of full professor of marketing; and the first woman elected president of the Southern Marketing Association, of which she was a founding member. That organization evolved into the Society for Marketing Advances.
About five years ago, Rockwood became one of the first seven faculty members – and the first woman – inducted into the FSU College of Business' Charles A. Rovetta Faculty Hall of Fame.
"Persis E. Rockwood remains an inspiring trailblazer with many 'firsts' to her name," Scott said last year upon becoming the Rockwood Eminent Scholar and among eight eminent scholars in the college.
As it drives toward preeminence, Brady said, the school continues to work in the spirit of its namesake and benefactor through unyielding support of its students.
"We have highly productive and visible scholars who are doing cutting-edge research and are known to be some of the most prolific and respected scholars in the world," Brady said. "We also have incredibly dedicated, supportive and nurturing specialized faculty members who engage students within and outside the classroom."
And Persis Rockwood's smile persists.
-- Pete Reinwald