Eminent marketing scholar continues to blaze new trails
---
Eminent marketing scholar continues to blaze new trails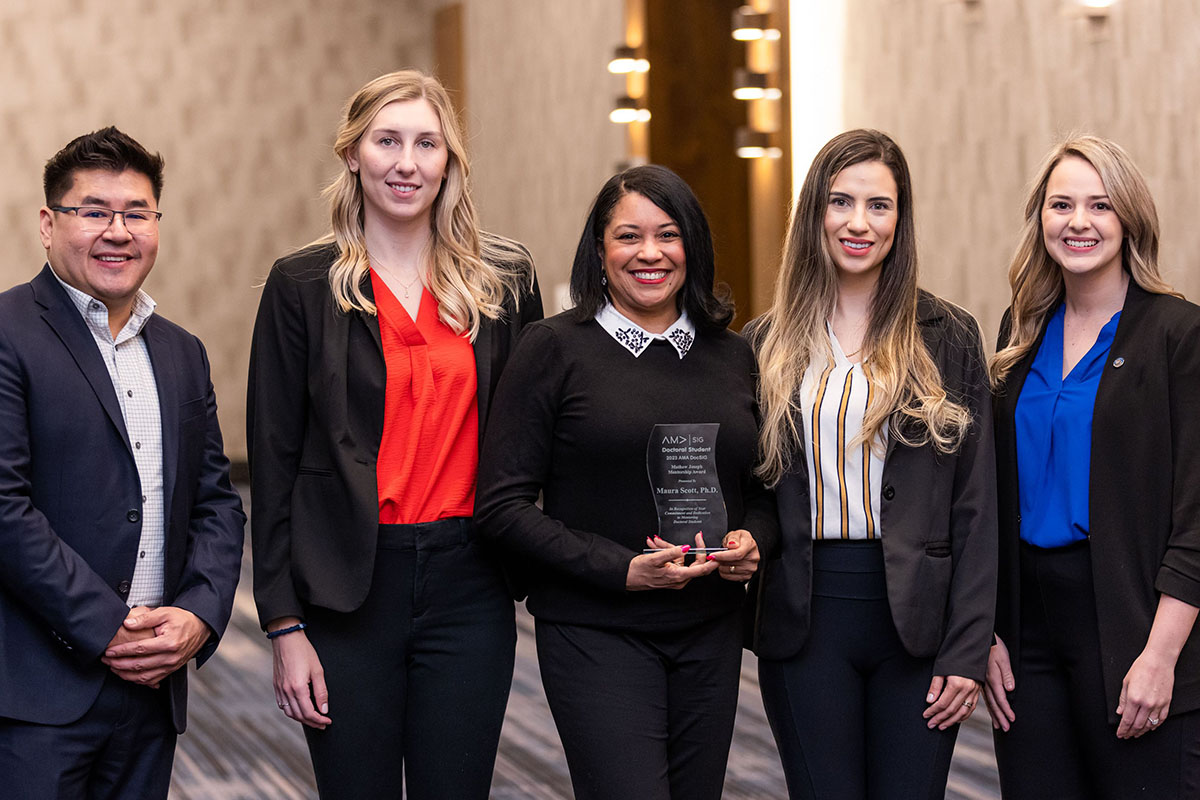 Diligence and dedication continue to result in recognition for Maura Scott, recently named Florida State University College of Business' inaugural Dr. Persis E. and Dr. Charles E. Rockwood Eminent Scholar in Marketing.
Scholar
Tapped as a Marketing Science Institute Scholar, Scott joins more than 30 other selected academics connecting real-world business problems with those who can research best solutions. MSI is a nonprofit arm of the Advertising Research Foundation that promotes unbiased scholarship and collaboration among leading marketers and renowned researchers.
"Being named an MSI Scholar is one of the most prestigious designations a marketing scholar can achieve," said Michael Brady, the director of the Dr. Persis E. Rockwood School of Marketing and Bob Sasser Professor of Marketing. "The honor reflects Maura's incredible work ethic, her passion for scholarly pursuits and the enormous respect she has earned from her peers."
Mentor
Scott also recently won the American Marketing Association's Mathew Joseph DocSIG Mentorship Award, which recognizes a faculty member's significant support of doctoral students. DocSIG stands for the doctoral student-led special interest group of AMA.
"I am very grateful for having such an amazing person, woman and scholar to guide and inspire me throughout my career and life," wrote Valentina Ubal, a native of Brazil who is pursuing Ph.D. studies in marketing at FSU. "She is this wonderful human who made me feel so safe that I left my country and everything I knew to pursue my dream in the United States."
Ubal's nomination letter also included notes of support from other students and junior faculty members who continue to benefit from Scott's mentorship, including the following excerpts:
"Maura is not only an amazing mentor, but also an extremely inspiring person, and I feel so lucky to have her as my advisor … Maura is always encouraging and makes me feel like there is no dream that is too big for me to achieve." – Marina Cozac, FSU Ph.D. candidate.
"She makes herself available whenever I've had doubts or questions, and I have always felt she guides me in the best direction while building my confidence and encouraging my research program." – Tessa Garcia-Collart, assistant professor of marketing at University of Missouri-St. Louis
"Time and time again, Maura has shown me that she truly cares about and finds her own happiness in my successes. Her long-term commitment to my academic career was evident from our first meeting (during my first weeks in the Ph.D. program) when she told me her ultimate goal was to help me achieve tenure. She was looking beyond the dissertation and beyond the job market, 10 years down the line to my full professorship." – Corinne M. Hassler (Ph.D. Marketing '19), assistant professor of marketing at the University of Kentucky
Scott said she's "deeply honored" to receive the international MSI and DocSig recognitions.
"I view these important scholarly activities – research and mentoring – as two sides of the same coin," Scott said. "As a researcher, I strive to advance knowledge that can help businesses promote the greater good for individuals and society. And, as a mentor, I am committed to supporting the next generation of young scholars, as they make a positive impact in the future through rigorous research, excellent teaching and dedicated service."
Advisor
Scott also this year started serving on an inaugural advisory council for the The PhD Project, a nonprofit formed in 1994 by business and academic groups to increase minority representation in business doctoral programs. Membership of the new PhD Project Advisory Council, called the PAC-15, represents five discipline areas – accounting, finance and economics, information systems, management, and marketing – and provides guidance as the organization considers new initiatives. The new PAC-15 board also includes two FSU graduates: Jared DeLisle (Ph.D. Finance '10), an associate professor of finance at Utah State University, and Jason Thatcher (Ph.D. MIS '02), Milton F. Stauffer Professor of Management Information Systems at Temple University.
Scott joined FSU's business faculty in 2013 and became the first African American woman to become a full professor of marketing at FSU, the first African American to serve as joint editor-in-chief of the Journal of Public Policy & Marketing and to serve as president of the American Marketing Association's Academic Council. Her research focuses on consumer behavior, consumer and societal well-being, public policy and services marketing, and she examines how to improve consumer decisions regarding finance, health and food, particularly among vulnerable populations. Read more about her recent kudos and her research efforts and vision for the future in this recent Q&A.
Scott also co-directs the Ph.D. in Business Administration's Marketing Major with Martin Mende, fellow marketing faculty member and the Jim Moran Professor of Business Administration. Ph.D. applications are already being reviewed for the March 1 deadline. Learn more and request information at business.fsu.edu/phd-marketing.
-- Melanie Yeager