Love of the hunt leads business student to start the Thrift Club at FSU
---
Love of the hunt leads business student to start the Thrift Club at FSU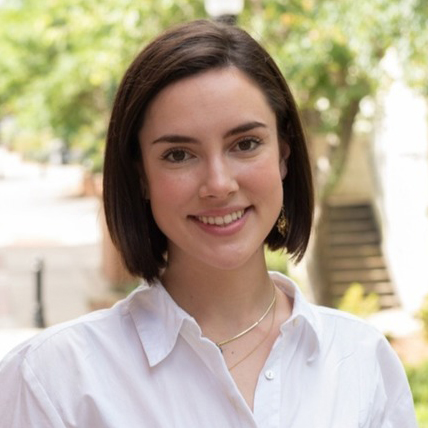 Olivia Larson caught the thrifting bug as a child when her mother brought her along on shopping trips to second-hand shops. Now a savvy thrifter herself, the College of Business junior has brought her passion to campus by starting the Thrift Club at FSU. As it turns out, she is not alone among her peers in her love of the hunt for one-of-a-kind and vintage clothing and accessories. 
"Thrifting is an activity that has really taken off for my generation," said the marketing major from Dunedin, Fla. "It's about getting items that are unique and cool that no one else is going to have so you can set yourself apart. I could go to the mall, but why would I? Students don't have the money to shop at a boutique, but we can afford two dollars for a name-brand blouse."
The club held its first meeting last semester at the College of Business and drew 35 attendees. Since word has gotten around, its membership has grown to more than 100 students from across campus. 
"Our members seem to be creative types who like fashion, art and film, and they appreciate being around other students who share those interests," Larson said. "College students are trying to figure out who we are and how we want others to see us, and we can do that through clothes, so thrifting isn't just about expanding your wardrobe on the cheap."
The club co-hosted two well-attended, on-campus events, Dory's Thrift Show at Oglesby Union in March and a Swap Till You Drop event in the Globe Dining Room in April. Both events featured more than 1,000 items, and 15 bags of leftover clothing items were donated to the Florida State chapter of Students Organize for Syria, which raises awareness for the humanitarian crisis in that country. Thrift Club outings to second-hand stores, estate sales and vintage shops are in the works, as are workshops on refurbishing used clothes and reselling thrift finds online. 
"I've always enjoyed finding deals and I'm particularly interested in how more people are moving toward consignment, reselling or repurposing as options for clothes they no longer wear," said Luke Hopkins, an assistant lecturer and assistant chair of the Department of Marketing who serves as the club's faculty advisor. 
"Thrifting is a growing trend within our student body," Hopkins said. "I've had students who buy and resell vintage clothing as a hobby and others who do this as a small business. The Thrift Club seemed like a great bridge between a growing interest among our students and an important shift in retail-buying behaviors. Any time I can find a course concept that is current and relevant, I do my best to learn as much as possible." 
---
By Barbara Ash