Internships open a wide world of career opportunities
---
Internships open a wide world of career opportunities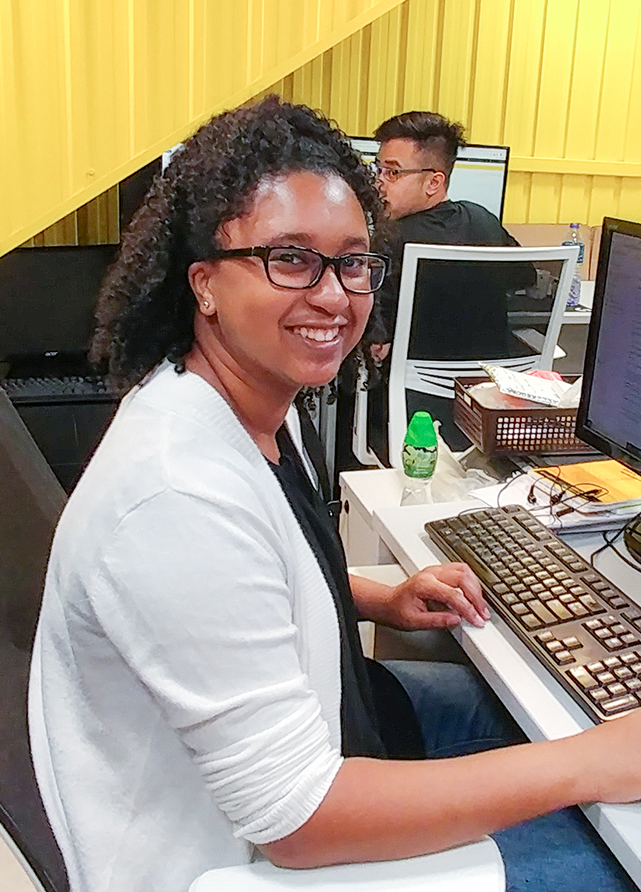 Florida State University College of Business senior Antoinette Thomas was thrilled to be accepted by e-commerce logistic firm Floship for a summer internship. Even better: She gained two months of experience in Hong Kong, one of the world's busiest and most sophisticated financial centers.  
She said she knew from the start it was a fantastic opportunity that would allow her to be efficient in a fast-paced environment, while learning as much as she could about Floship's finance function. Her internship responsibilities included creating customer and courier profitability reports and handling chargeback disputes.   
"I wanted to gain a greater understanding of the global economy, gain a better perspective of the world and grow in my ability to communicate with people from another part of the world," Thomas said.
The experience lived up to her high expectations. 
"I can't think of a better way of learning than through an internship," she said, "and it was great to be able to learn in a totally different culture." 
While Thomas honed her skills in an exotic part of the world, Adam Thompson, a senior majoring in management and marketing, enjoyed almost three months in Denver as a ground-handling contract intern for Frontier Airlines and taking steps toward his long-term goal of becoming a commercial airline pilot.
Internships, like the ones Thomas and Thompson held over the summer, give business students on-the-job training and opportunities to network with professionals in their fields before joining the workforce. About 526 students fanned out across the globe to participate in paid and unpaid internships for academic credit, according to Kawana Johnson, director of the college's Internships and Career Services Office. 
The experience helps students learn about their strengths, interests, problem-solving skills and their ability to deal with clients and work under pressure, Johnson said. Just as important, this work experience can affirm an individual's career path or persuade a student to change direction before graduating.
In Thompson's case, the internship left no doubt that he was on the right track. 
"My goal was to gain insight into every aspect of airline operations because it will make me a better and more valuable member of the aviation community," said Thompson, who hopes to secure a leadership role in airline operations while earning his pilot's license. "I received an incredible amount of individual attention from experts across the company, including pilots and hiring managers, and gained valuable insight into how I could best set myself up for a successful aviation career." 
While students gain invaluable on-the-job training during their internships, employers also benefit. Students can offer new ideas and fresh approaches to problem-solving and communication and become excellent resources for permanent employees, Johnson said. In addition, she said, supervising and mentoring interns gives current employees management experience. 
Johnson said she encourages students to take advantage of several FSU resources available in their search for internships, particularly SeminoleLink, powered by Handshake (the university-wide job database managed by the FSU Career Center), the college's weekly internship e-newsletter, bulletin board and internal social media pages. She also recommends they take the initiative to scout out opportunities on their own.
While Thomas learned about her Hong Kong internship by visiting the college's internship office, risk management/insurance major Angelina Lam's Google search led to her internship as a corporate risk management undergraduate associate with The Walt Disney Company in Kissimmee, Florida. The internship gave her a glimpse into Disney's risk management strategy through the lens of various departments, such as guest claims, workers' compensation and data analytics. 
Human resource management major Alisha Daswani was chatting with her father about wanting to spend the summer some place other than her hometown of Panama City, Panama, when he mentioned that the Hilton Garden Inn Santiago Airport was seeking interns. She secured one of the openings and ended up spending a little over a month in Chile. Her time there introduced her to the hotel industry as a career option, a perfect fit she hadn't considered previously. 
"Internships provide students with a valuable opportunity to put theory to practice as they prepare for the rigors of today's competitive workforce," Johnson said. "The benefits of internship participation are far-reaching and can have a lasting impact on the student's future success." 
For employers interested in learning more about the benefits of hiring an FSU College of Business intern, please visit our industry webpage, email the office staff at internships@business.fsu.edu or call 850-644-8495
 
--
By Barbara Ash