TRENDS Conference trumpets opportunities in real estate
---
TRENDS Conference trumpets opportunities in real estate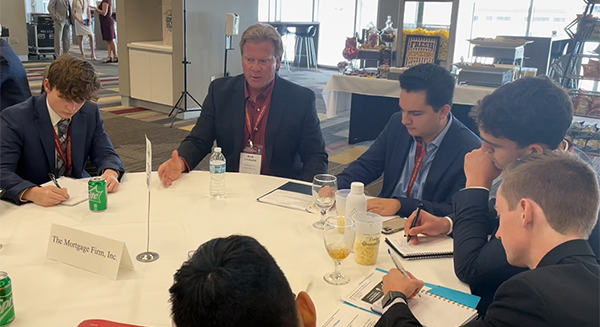 ​
About 170 College of Business students packed into the FSU Champions Club at Doak Campbell Stadium today as the 27th annual Real Estate TRENDS Conference got underway with an afternoon of networking and career advice from top industry professionals.
It stood as the first of two days of a world-class business forum that the college touts as among the first of its kind in the country. The conference highlights emerging trends and conditions that the real estate industry faces, and it brings together industry officials to discuss conditions that affect local, regional and national markets.
Tomorrow's sessions will include timely topics and discussions, including how real estate industry officials can attract and attain top companies; how innovators have persevered and positioned themselves to thrive in a post-pandemic world; and how interstate migration and work-from-home trends have accelerated or disrupted the office. Another session will explore the changing nature of urban and suburban markets.
Tomorrow's agenda also will include comments from FSU President Richard McCullough and College of Business Dean Michael Hartline.
"What an exciting day," Yvonne Baker, executive director of the FSU Real State Center, said of today's activities. "It's so great to finally be back in person again at this amazing conference. We really appreciate at the support from our sponsors and the professionals."
Today's events included an "If I were 21" student/mentor event featuring about 30 professionals, including College of Business alumni, who met with students at 25 tables.
Each table saw about a dozen students ask a professional about his or her industry. After a few minutes, session mediator John Crossman, CEO of Crossman Career Builders, would ask students to move to another table so that they could get time with various professionals and companies.
Professionals told students about their jobs and professions and how they fit into the real estate industry. They also discussed opportunities.
"There are all kinds of opportunities in real estate," Matt Hoopfer, an executive with The Villages Commercial Property Management, told students at his table. "You don't have to work directly for us. We have opportunities … to grab whatever kind of real estate you're invested in. We're developers of homes, but what comes with that is all the commercial (development)."
Students asked professionals about their jobs and careers. They also asked for advice, including networking. And this was a big day for networking. Thursday's activities also included a "speed connections" session that allowed prospective employers to briefly meet with students for recruiting.
At the student/mentor event, Martin C. Engelmann Jr., president of Tropical Valuation Advisory, told students at his table about a lone student who set up a time to talk with him.
"And I think I we talked for 30 minutes, maybe 45 minutes. I guided him, and I actually referred him to two or three of my developer buddies so that he could pursue what he was really looking at," Engelmann told the students. "And he wrote me a thank you note … and that's the way you do it."
Dan Paulus of Universal Engineering Sciences said during a brief break that he appreciated "the opportunity just to have a candid conversation with each of the students."
He said he also liked the format, which allowed professionals to direct students to "that property manager who may be hiring in South Florida or the brokerage back in Tampa that you may have dealt with over the years."
Of the students, he said: "All of them have been very sharp."