Alumnus Ash Williams retires as a statewide giant
---
Alumnus Ash Williams retires as a statewide giant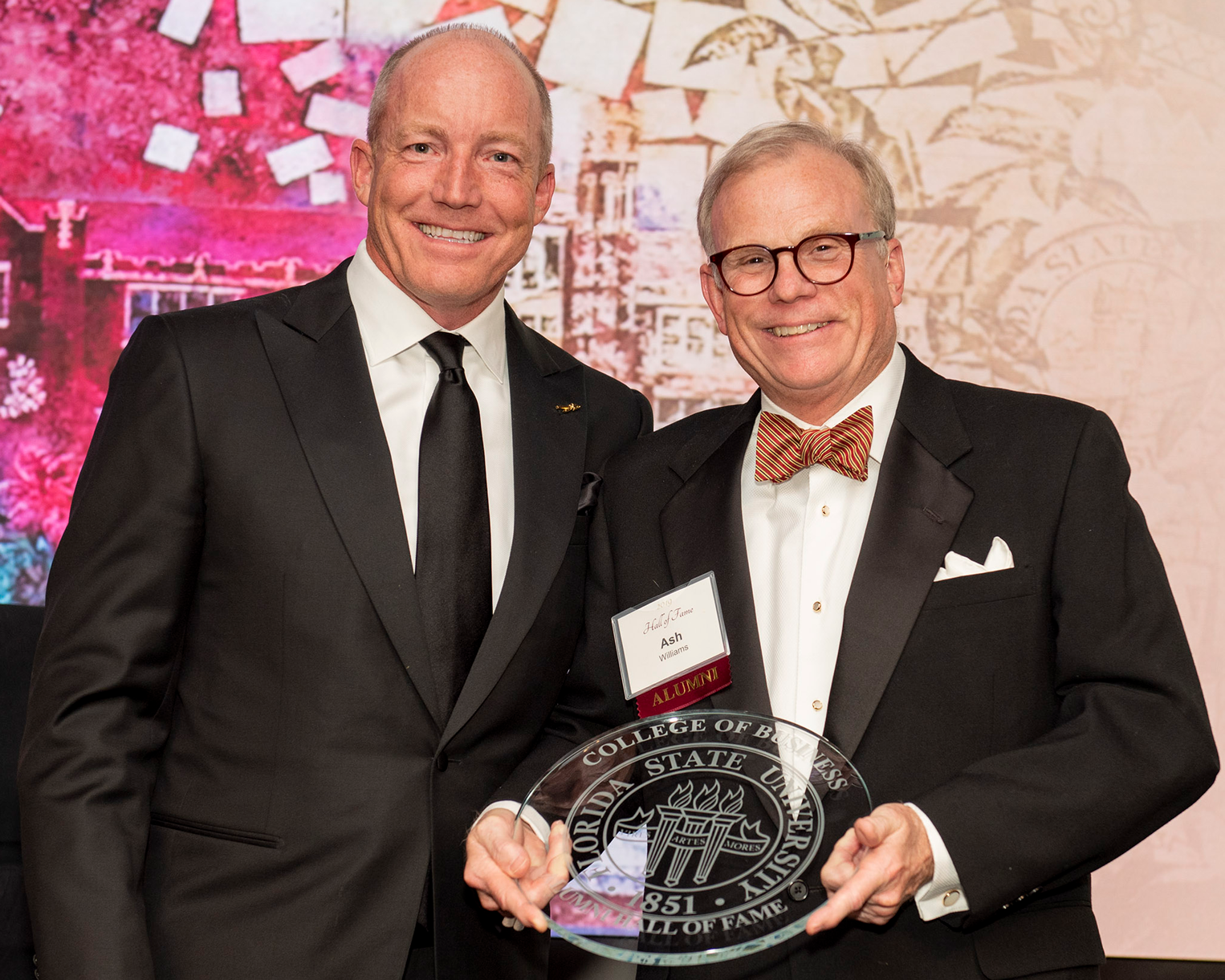 With the candor of a commander, Ash Williams likens the Florida organization that he navigated for parts of four decades to a nuclear submarine.
"It is unbelievably powerful," he says. "We can roam the world seeking value. We can surface when we find things of interest."
Williams refers to the investment radar and reach of the State Board of Administration, or SBA, a constitutional entity that manages and safeguards assets of the Florida Retirement System Trust Fund, plus assets of various other funds.
He continues with the submarine analogy, saying: "We can make ourselves felt when we want, capturing opportunities with well-chosen partners, innovative investment structures and aligned economics and meaningful scale. We can disappear when we want. That is incredible power for protecting and compounding capital."
A graduate of the Florida State University College of Business (B.S. Management '76 and MBA '78), Williams guided the SBA from 1991 to 1996, then from 2008 until his retirement at the end of September.
Because of his work as executive director and chief investment officer, the organization today looms large – actually, massive – on the surface and at its depth. It manages more than $250 billion in assets, more than double total assets when Williams took over for a second stint during the Great Recession. And from an investment standpoint, it tends to sail smoothly – at least smoother than most – amid the most turbulent seas.
As a result, people who know Williams and who specialize in global asset management refer to him as somewhat of a financial market miracle worker, perhaps even a fiduciary with a cape.
"Ash Williams is an icon in the pension fund world, the State of Florida, the College of Business and Florida State University," says Michael Hartline, dean of the College of Business.
In 2017, Williams received the FSU Faculty Senate Mores Torch Award, which recognizes respect for the university's customs, character and tradition. Two years ago, the College of Business inducted him into its Alumni Hall of Fame, and College of Business graduate Peter Collins (B.S. Finance '92 and MBA '97) introduced him during the ceremony.
"He should be in a few more halls of fame soon," says Collins, noting Williams' reputation among leaders in global asset management.
Collins, co-founder and managing principal of Tampa-based Forge Capital Partners and the new chair of the FSU Board of Trustees, once served as a manager with the SBA and recently ended a term as chair of the SBA's Investment Advisory Council.
He calls Williams a mentor and friend whose work provided retirement benefits to about a million current and former public employees.
"Everyone who is currently getting a check from the State of Florida Retirement System or will be receiving one in the future owes a debt of gratitude to Ash," Collins says.
Collins also hailed Williams' work for FSU. For starters, Williams remains a generous donor who also currently chairs the FSU Foundation's Investment Committee, which in the last fiscal year guided the endowment to a return on investment of more than 41 percent – tops among the 12 schools in the State University System. Williams also plans to make a gift to help fund Legacy Hall, the future home of the College of Business.
Of the college's and university's standings in national rankings and reputation, Williams says, "better than ever – the sky's the limit."
As for managing pension funds, it is not easy work, and Williams says that motivated him. He says he got inspiration from thinking logically and creatively through the unforgiving asset management industry and from thriving among some of the world's smartest people.
Collins says Williams got it done through a rare combination: the financial chops to lead a pension fund the size of Florida's – the fifth largest in the country – and the people skills to navigate pension politics.
"Ash has both of these skills in abundance and wields them with ease and unbelievable grace," Collins says.
With a tinge of a Southern accent, Williams emphasizes the SBA's activities in terms of "we" instead of "I," as in, We fought and won for Florida in a nuclear submarine.
Yet he accepts credit when he considers it dead on and due. Asked if he agrees with Collins' assessment on that rare combination of skills, Williams replies: "Absolutely. You kidding? That's the special sauce."
'Just loved' Florida State
Ashbel C. Williams Jr. grew up in Jacksonville and wanted to be a journalist, like his two sisters, but heeded advice that he'd do better with an MBA. He earned one at FSU right after earning his undergraduate management degree.
Having experienced a somewhat sheltered upbringing, as he put it, Williams says he blossomed in FSU's diverse environment, in which he learned to communicate with and relate to people from various backgrounds.
"I just loved it," he says.
He warmly recalls Charles A. Rovetta, the former College of Business dean and the namesake of the college's current building. He also remembers Gary Zenz, a professor who specialized in materials management, for putting him in charge of a study on the state's purchasing system. One state politician had called the system corrupt, he says.
"I rapidly found out the purchasing system in the State of Florida was one of best in country," Williams says.
The study opened doors, says Williams, who says he soon found himself, in his mid-20s, working for and learning from some of the top people in state government. Those included Gov. Bob Graham, Comptroller Gerald Lewis and House Speakers J. Hyatt Brown and Ralph Haben, for whom he covered the state pension plan, among other duties.
Williams became executive director of the SBA in 1991 when Clifford Hinkle, the director at the time who would receive posthumous induction into the College of Business Alumni Hall of Fame, decided to return to the private sector. Williams served in that role until 1996 when he left for New York and broadened his financial acumen with executive roles at top investment firms.
He returned to the SBA in late 2008, in the middle of the Great Recession. He recalls "a very real question over whether the global financial system was headed into the abyss. There was a very palpable fear everywhere."
Yet under Williams, the pension fund returned an annualized 10.33 percent – almost 1 percent ahead of target over 13 years – and grew from $99.4 billion in November 2008 to $199.6 billion in June of this year. He owes that to knowing what to invest in, when to invest – and when not to invest.
"Human beings are wired to respond primarily to greed and fear," Williams says, "and greed is what causes people to chase rising markets long after they should chase them." Billionaire investor Warren Buffett summarized this well, he says: "Be fearful when others are greedy and greedy when they are fearful."
The SBA had been wired with the size, liquidity and structure to emphasize a "long-term horizon" and to make investment judgments "rationally and purely on the factual merits," Williams says.
The organization's strategy has resulted in investments, including for the state retirement fund, in places you might not expect.
How he and the SBA did it
Liquid stocks and bonds always will anchor the portfolio, Williams says, but private market assets, real estate, private equity, venture capital and opportunistic strategies contribute meaningfully to diversification and total returns.
"In a world of negative real returns – that is, net of inflation – on fixed income, or bonds, to earn an adequate total fund return requires diversifiers that still add real return," Williams says. "That's where the creativity comes in."
Through its investment partners, he says, the SBA has been an early investor in many disruptive businesses and has realized substantial gains when companies went public or were sold. He cites Airbnb, Coinbase, Snapchat and Yeti as examples.
Williams offers another favored investment approach – owning unique assets that produce cash flow through leases and royalties, independent of daily market movement. He mentions real estate, including residential, industrial, commercial, agricultural, and medical.
Those assets include warehouses that supply New York City with daily household goods and supplies.
"If you're looking for a way to play Manhattan, it's an island, and space is at a premium," Williams says. "Everything consumed there has to be resupplied frequently, usually from just outside the city. We built a portfolio of industrial warehouses through which many of the goods that feed the biggest city in the country go, so no matter what the people in New York City are buying, we're getting paid because it's coming through our warehouses."
Speaking of New York, he'd like to start spreading the news: More than 60 percent of every dollar paid through the pension system comes not from taxpayers but from investment gains, he says.
Other tangible SBA assets include aircraft, ships and rail cars. To take the concept further, he says, the organization invests in intellectual property such as drug patents and music rights, and it benefits from their royalty streams.
If you have listened to Burt Bacharach, Bob Marley, Prince, Smokey Robinson or Whitney Houston, the Florida Pension Fund may well have received a fee for the commercial use of that music. The same goes for artists' work in an advertisement, a movie, a TV show or on radio, cable or a streaming platform.
"We have done so many things that are just 'out there' but that prudently make a lot of money," Williams says.
He also touts the SBA as "a culture of compliance and integrity."
About his role as a public servant, Williams adds, "That's a notion that seems to be lost in a lot of places today. Some people seem to be in public service on the political side to promote themselves and settle scores. Real public service is about helping other people, doing well by doing good."
-- Pete Reinwald