College excels in international sales competition
---
College excels in international sales competition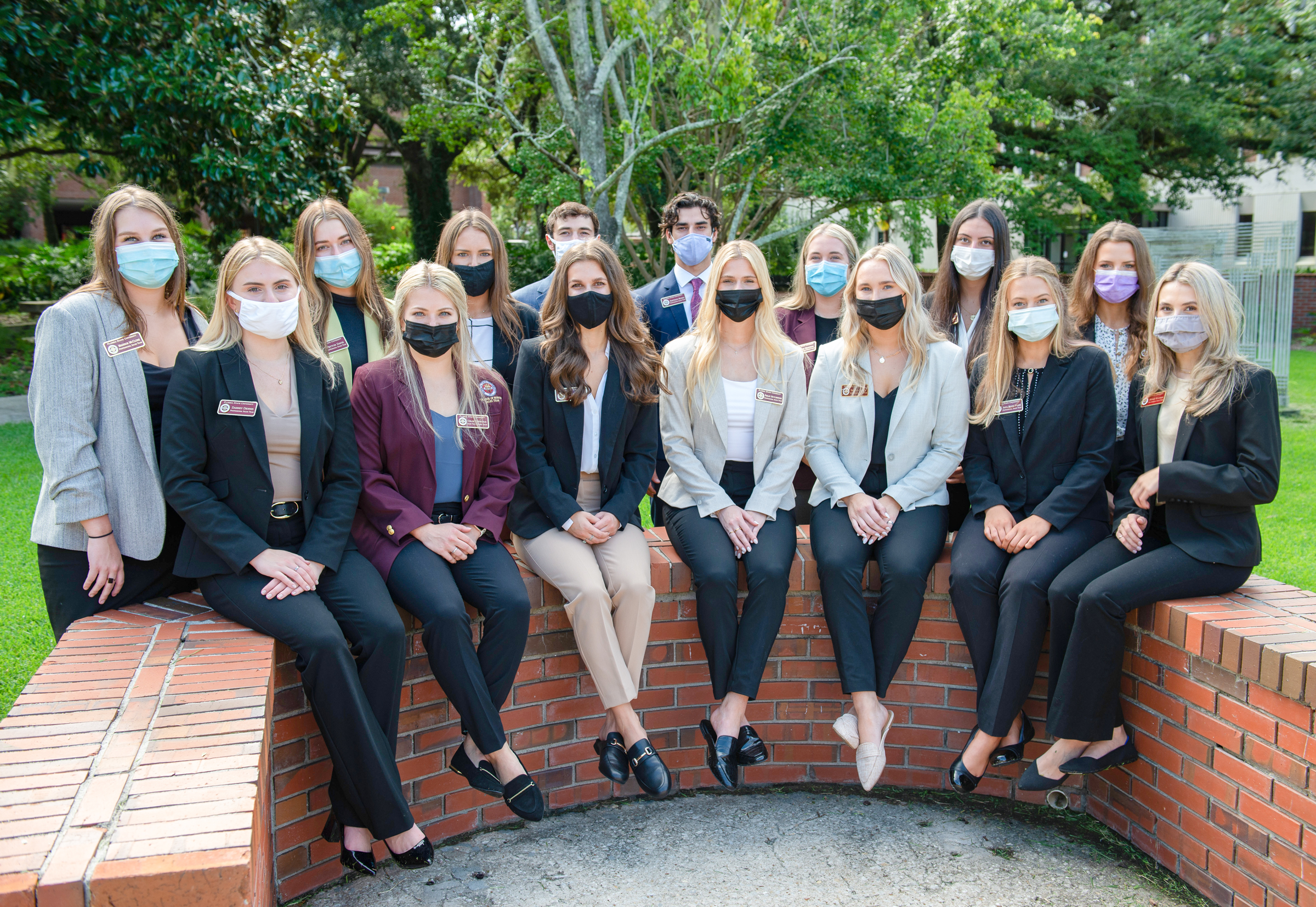 ​
Behind a second-place finish from Dabney Dennis and additional strong performances from Peyton Davis and Anna Marie Parisi, the College of Business placed eighth out of 80 schools last month in the International Collegiate Sales Competition, the world's largest event of its kind.
Hosted by the college's FSU Sales Institute, the event measures a university sales program's focus on overall business revenue-generating skills. 
Pandemic-driven scheduling factors and travel limitations forced the annual event online for a second straight year, but event organizers say next fall they plan to bring the event back to Orlando.
Also called the Collegiate World Cup of Sales, the competition attracted about 300 U.S. and international students. It included a role-play event, a sales-management case competition and a speed-selling event, the latter of which Dennis won $750 for her runner-up finish.
Prizes included cash, clothing and cruises. Virgin Voyages President and CEO Tom McAlpin (B.S. Accounting and Finance '81), a 2017 Alumni Hall of Fame inductee, provided two cruises for two and played himself in the role of Virgin Voyages' buyer during the competition.
The event also featured a daylong career fair. 
"It was fantastic," Chuck Viosca, director of the institute said, adding that FSU team members helped run the event. "Many schools see this as the premier event in sales of the year. For companies, this is one of the premier recruiting events, where they go to recruit their best sales talent."
Kansas State University won the overall competition, with winners in the role-play event and the speed-selling event, in which Jacqueline Anzalone edged FSU's Dennis, a senior majoring in professional sales and finance.
Viosca expressed delight with FSU's eighth-place performance, especially given that the team didn't qualify for the sales-management case competition. Because of that, FSU had to rely on performances only in the speed-selling and role-play events.
Davis, a senior majoring in professional sales and finance, and Parisi, a senior majoring in professional sales and management, each reached the semifinals of the role-play competition.
In that event, competitors worked to close a sale of a product with an organization that operates globally or aims to expand internationally. The competition included four rounds, including a 15-minute introductory round in which competitors strived to learn the company's needs for their product. 
In ensuing 20-minute rounds, participants met with progressively higher-level decision makers in efforts to advance a fourth meeting – the final round – and close the sale.
Davis said she prepared three months for the competition – learning her product, researching her mock employer and reviewing the needs of the potential client.
She called the competition "as close as you can get to the real world, just because of the different spins that they put into the buyer script."
"You really have to be prepared for anything and everything; you never know what's going to happen," Davis said. "It throws a lot of people for a loop. But the experience that you gain from that is so vital, and I've learned so much from it that I think I'm going to be able to take it into the real world with me."
The speed-selling event included a 60-to 90-second elevator speech in which competitors sold themselves on an appointment for a job or internship with one of about 30 companies. Judges scored based on speech content, including knowledge of the company; delivery, including flow and attire; voice, including volume and confidence; and language, including grammar and pronunciation.
Competitors with the top 10 scores advanced to a second round, which included a similar 90-second elevator speech with Jacksonville-based Signature Consultants.
Dennis emphasized the importance of being confident and knowing about a prospective employer. When pitching herself, she said, she also aims to share a personal experience relevant to the position or company.
"It's about showing them that you have something more than just a desire for money and a job," she said, "but a personal connection that's going to help you do well at their company."
– Pete Reinwald