Deloitte partnership prepares students for 'high-change' workplaces
---
Deloitte partnership prepares students for 'high-change' workplaces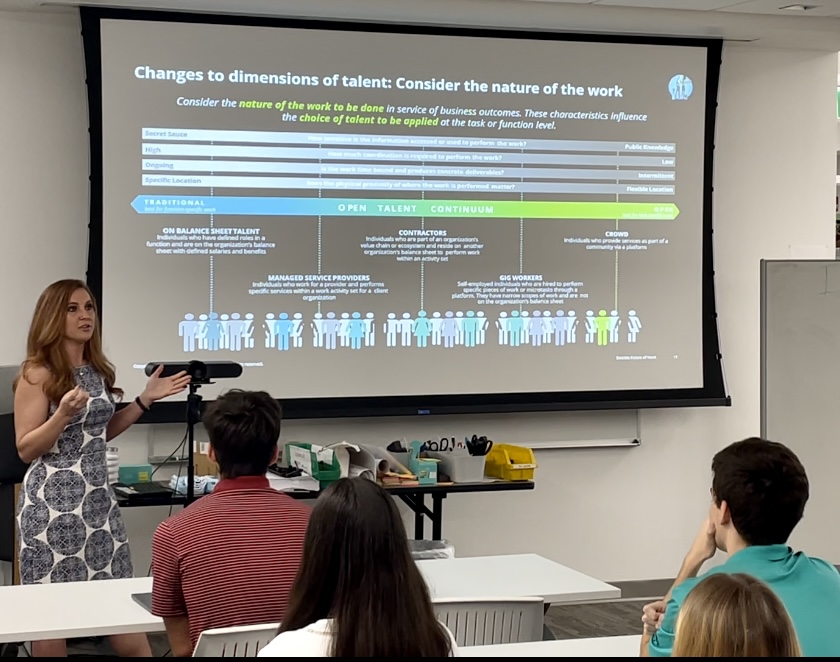 ​
Courtney Porter showed College of Business students an "Open Talent Continuum" that included "traditional" work on the left and "open" work on the right. From left to right, the continuum featured on-balance-sheet employees, managed service providers, contractors, gig workers and crowdsourced workers.
Porter, a senior human capital consultant in the government and public sector at Deloitte, asked students which end of the spectrum required the most organizational coordination.
"I think the farther you go to the right, the more coordination you need," one student responded.
Bingo, Porter said.
Porter served as lead facilitator last week of a Future of Work Institute Boot Camp at the Florida State University Innovation Hub, a 14,000 square-foot space on Landis Green that promotes and hosts, among other things, classes, collaboration, workshops, projects – and boot camps.
Last week's boot camp stood as part of Deloitte's Future of Work initiative and the Future of Work Institute that it conducts with FSU and six other U.S. institutions.
Deloitte, a multinational business consultant, and the College of Business tout the partnership to help students navigate future careers and become leaders in a rapidly changing world.
"The whole purpose of the Future of Work is to prepare students with the capabilities and begin the skill-building process to help them be successful in an environment that's unpredictable right now," said Darren Brooks, assistant dean and director of the Center for Human Resource Management.
Last week, Brooks joined students for one of three Future of Work labs, each of them two weeks apart and the next one scheduled for Nov. 5. The schedule breaks each lab into a separate work, workforce- or workplace-related topics.  
Last week's lab focused on skills and job types within the workforce of the future and the ways in which the changing world of work will influence career choices, Brooks said.
Brooks sat in front of a room full of students at the Innovation Hub as Porter facilitated, with further insight from Corey Watt, a 2010 FSU Finance alumnus who works as senior consultant in mergers and acquisitions at Deloitte.
Watt told students that his department "can't hire enough full-time employees to staff all the jobs that we're doing."
"We're hiring contractors, gig workers, pulling in all the people who have this experience and have done this in the past but don't necessarily want to have a full-time job," Watt said. "They last sometimes three weeks, sometimes three months. They come in. They get the job done. They're out. And that's growing."
The presentation and conversation turned to the COVID-era practice of working from home and attending business meetings via Zoom.
Brooks mentioned a recent published report in which a company CEO declared the practice detrimental, particularly for new employees, including those right out of college.
"How do I work? How do I interact with people? How do I work within a specific structure? How do I identify those individuals who are going to help me get my job done?" Brooks said to presenters and students, paraphrasing the CEO.
Brooks added: "While the work can be done, it's not about 'Can it be done?' It's 'Should it be done?' We need to consider the long-term implication for young employees when they miss a whole set of experiences that create the foundation for their careers. It is important to ensure that both the physical and digital work environment creates opportunities to develop connections and facilitates high levels of engagement with co-workers and superiors."
Porter pointed out that because of the pandemic, many recent college graduates count Zoom as their only source of face-to-face workplace feedback and communication.
"That's one thing that we've had to coach a lot of our analysts on -- bridging that gap," she told students. "When you're working with a client, you have to be hyper aware on Zoom of what's going on. You can't zone out. You really have to be conscious of body language and those sorts of things."
The lab also included interactive components in which students worked in groups on workplace scenarios.
Among other things, the Future of Work Institute touts its power to connect students with institute peers and to help expand their professional networks with other higher education institutions. It also provides tactical career guidance on items such as building out resumes and LinkedIn profiles.
During a break from the lab, Brooks emphasized the way the pandemic has changed the typical workplace over the past two years. Some CEOs with whom he has spoken see it a bit differently, he said.
"One of the things they've continued to emphasize is the pandemic didn't change what we were doing," Brooks said. "It didn't change our strategy. What it did was accelerate it significantly. And that's the environment in which most of our students are going to be working -- unpredictable, high-acceleration, high-change environments, so we need to make sure we're preparing students to deal with that. And that's what this is all about."
He praised the FSU Innovation Hub as the ideal place to host the Future of Work Institute Boot Camp. The Hub itself boasts "transdisciplinary discovery, design and innovation to confront the vexing, complex and wicked challenges of our day."
"It's not just the technology – it's space," said Ken Baldauf, the Hub's founding director. "It's really all about putting teams together made up of students from all different disciplines, learning the skills and giving them the tools to address the key issues in the world today."
-- Pete Reinwald