RMI, professional sales students team up for Insurance Sales Challenge
---
RMI, professional sales students team up for Insurance Sales Challenge
With last fall's devastating hit by Hurricane Michael on the Florida Panhandle still fresh in their minds, the College of Business students who participated in last month's Insurance Sales Challenge were well aware of what was at stake for a fictional country club in the event of a similar disaster.
During round one of the daylong, two-round competition, students – in the role of insurance sales agents – were charged with meeting country club representatives who were potential insurance policy buyers – played by industry volunteers – to a gather information and assess future risk for the country club. In the next round, two-person teams comprising both risk management/insurance and professional sales majors, presented their recommendations for effectively insuring the business.
The competition, a joint effort between the Dr. William T. Hold/The National Alliance Program in Risk Management and Insurance and the Department of Marketing's FSU Sales Institute, was created by the RMI faculty and the Risk Management and Insurance Executive Council to familiarize students with insurance sales and career opportunities in the field, explained Patricia Born, the Payne H. and Charlotte Hodges Midyette Eminent Scholar in Risk Management and Insurance. She and Pat Pallentino, institute director, served as faculty advisers for the competition. Bob Roberts of the National Alliance for Insurance Education and Research developed the case.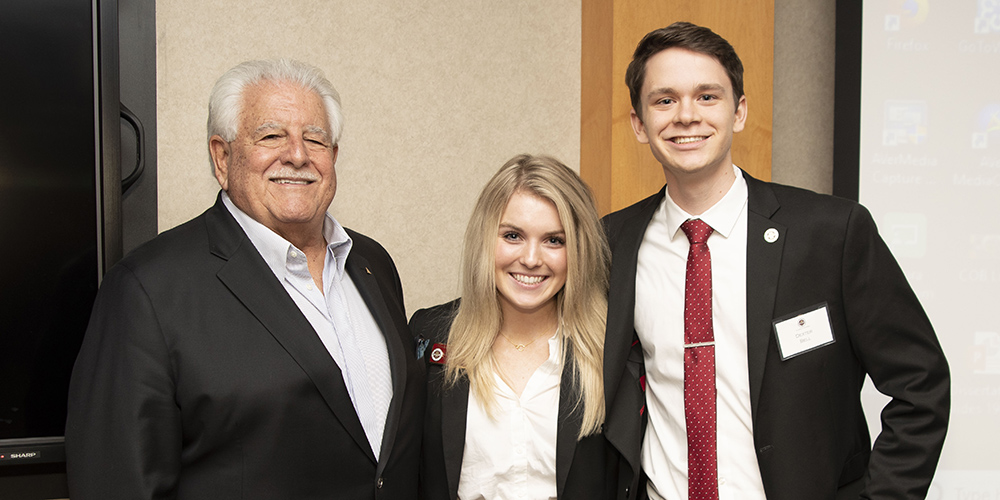 After placing at the top in the first round, professional sales senior Olivia Sinclair and RMI sophomore Dexter Bell teamed up for the second round – impressing each other with their respective skills –  and took first place, a $500 cash prize each and experience they can build on as they begin their careers. Both students were mentored by Foremost Insurance Group representatives prior to the competition, with Mark Post helping to bring Sinclair up to speed on the insurance and risk management end of things and Charles Powell providing Bell advice on the selling side.
"I learned a great deal about how to interact with potential insurance customers," Bell said. "Olivia provided a clear structure and the knowledge of how to pitch the sale and direct a tactful conversation with a potential customer. The competition's networking aspect gave me the opportunity to showcase my potential for success in insurance and risk management and to expand my connections in the industry."
For Sinclair, a member of the college's award-winning Professional Sales Team, the competition boosted her confidence in her own selling skills.
"It confirmed my belief that sales is universal and having the skills to build relationships and gather information from prospects, regardless of industry or product, was what this competition came down to," she said. "Mark and Dexter's insights into the insurance side of things, and my sales classes and experience in other sales competitions, played a huge role in our success."
The annual event also provides opportunities for participating students to build relationships with industry professionals, many of them FSU graduates, who act as mentors, business owners, potential customers, and judges.
Melissa Champany, director of membership outreach and a member engagement specialist for the 2,000-member FAIA (Florida Association of Insurance Agents), has been involved with FSU's RMI program for almost 12 years and with the Insurance Sales Challenge as a mentor and judge since its inception five years ago. "This is an excellent way for industry participants to get to know the students and build relationships with them because they are potential hires," she said. "I'm impressed by how well-prepared they are and by their professionalism. It's clear they are positioned to be successful in their careers."
Sponsors of the event, many of which also played other roles in the competition, were:
Don Jones Scholarship Fund
FAIA
Harry Levine Insurance
State Farm 
Zenith Insurance
Other participating companies whose executives served as mentors, buyers and judges, included: 
Baldwin Krystyn Sherman Partners
Bouchard Insurance
BXS Insurance
Closson Insurance
Foremost Insurance Group
Franklin Insurance Agency
Hub International
LassiterWare
McCreadie & Associates
Next Impact
Northwestern Mutual
The National Alliance for Insurance Education and Research
Wheeler Agency
Woodruff Sawyer
The competition even garnered interest from other universities, including the University of Georgia, the University of Akron, Troy University, Illinois State University and the University of Mississippi. Their students and faculty members attended as observers with an eye on adopting similar case competitions at their home colleges and potentially partnering with FSU to develop an intercollegiate regional or national competition.