Alumni Hall of Fame: 3 more demonstrate 'the Florida State way'
---
Alumni Hall of Fame: 3 more demonstrate 'the Florida State way'
They reaffirmed their affection for Florida State University.
"If I woke up every day like it was my first day at FSU," Peter Collins said, "I'd be OK with that."
They accentuated their appreciation for newfound enshrinement and fame.
"It's probably the biggest honor of my life," Ted Ostrander said.
And they proclaimed their passion for helping people.
"Isn't that what it's all about?" John Rivers asked.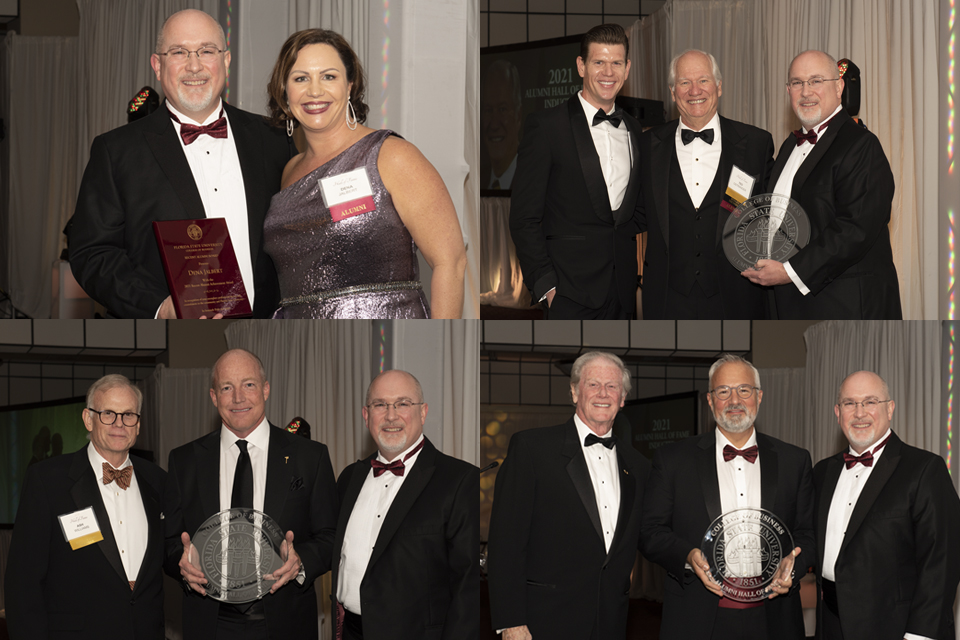 Collins, Ostrander and Rivers emphasized those points and more on Nov. 4 when the College of Business inducted them into its Alumni Hall of Fame.
Their inductions happened during the 2021 Alumni Hall of Fame Dinner & Induction Ceremony at the Donald L. Tucker Civic Center. The black-tie event drew about 200 people, including FSU President Richard McCullough, First Lady Jai Vartikar, former FSU President John Thrasher and 15 previous Alumni Hall of Fame inductees.
Featured speakers included Brett Lindquist, the new chair of the College of Business Board of Governors, and three people who introduced the inductees: Alumni Hall of Fame member Ash Williams, Matt Ostrander and Thrasher, also an Alumni Hall of Fame member.
The ceremony also saw nationally distinguished business executive Dena Jalbert, a 2010 College of Business graduate, receive the 2021 College of Business Recent Alumni Achievement Award. Jalbert is founder and CEO of Winter Park-based Align Business Advisory Services and a champion of the advancement of women in business.
The latest inductions increased the Alumni Hall of Fame membership to 58 College of Business graduates who have excelled in their careers and communities and made significant contributions to FSU, especially the college.
Michael Hartline, dean of the college, hailed Collins, Ostrander and Rivers as "wonderful role models and outstanding ambassadors for the university and the College of Business."
"Like previous Alumni Hall of Fame inductees," he told the audience, "these individuals demonstrate, among other assets, exceptional energy and integrity, leadership and apprenticeship, and benevolence and preeminence – qualities we strive to instill in our students and each other."
Hartline highlighted the university and college's standings in the national rankings, including the No. 1 ranking for the Dr. William T. Hold/The National Alliance Program in Risk Management and Insurance. The Real Estate program ranks No. 5 among public universities and No. 8 overall, and virtually every program ranks in the Top 25 nationally, Hartline pointed out.
He also emphasized the significance of Legacy Hall, the future home of the College of Business, and the importance of funding so that construction can start next fall, as planned.
Lindquist urged gifts that would ensure "shovels in the ground" for Legacy Hall. An alumnus and major donor himself, he drew laughter and applause during an animated and playfully frank speech in which he emphasized to potential donors that he'd be persistent about asking them for money to fund the project.
He called the new inductees "three more alumni who exemplify and remind us of the greatness of our college and university."
Inductees discussed their decisions to attend FSU and the ways in which the college and university shaped their careers and lives. They shared stories about how they have aimed to make a difference.
They saluted the people who helped them. And they emphasized giving back.
"When we come together as a single body and we help those who need help the most," Rivers told the audience, "everybody benefits."
The inductees expressed gratefulness for their spouses, children and other loved ones, including many in attendance.
And they saw friends and family as one.
"They say friends are the family you choose for yourself," Collins said, "and I'm extremely fortunate that I can count a lot of you here tonight as my family."
They remembered the cars that took them to FSU. Collins recalled his grandmother's old Chevy Nova "with ripped seats." Rivers, having dropped out of college in Georgia and calling himself "pretty broken" at the time, noted a 1972 Volkswagen Beetle "with holes in the floorboard."
Ostrander said he didn't own a car but borrowed that of his sister, who was two years ahead of him at FSU.
"So, I was a big shot, man," Ostrander said with a laugh. "I had the car!"
Their stories, self-directed humor and FSU boastfulness inspired laughter, sometimes at the expense of any Florida Gators in the room, and their graciousness kept the audience applauding.
The same went for the people who introduced them.
"You've selected well," Thrasher said to members of the Alumni Hall of Fame selection committee. "Three incredible people who have done so much for Florida State University."
Here's an abbreviated look at comments from the inductees and the people who introduced them:
Peter Collins (BS Finance '92; MBA '97)
Two years ago, Collins introduced Ash Williams for Williams' induction into the 2019 Alumni Hall of Fame. They'd been friends for three decades, including when Williams hired Collins at the State Board of Administration.
Hartline told the audience that Williams and Collins had come full circle: Now it was Williams' turn to introduce Collins.
Williams, who retired in late September as executive director and chief investment officer of the SBA, saluted Collins as a principled leader who never fails to confront the proverbial elephant in the room. While he's at it, Williams said, Collins offers "meaningful, viable and constructive ideas for solving whatever the challenges the elephant represents."
Collins stays on an issue "until it's resolved" and "is made right in an impeccable, durable and sustainable way," Williams told the audience.
"That is the Florida State way."
Ted Ostrander (BS Business Administration '70)
Matt Ostrander introduced his father as "the man I admire the most."
"Ted's gracious grin, his warm disposition and wry wit make it easy to understand why people have always enjoyed his company," said Matt Ostrander, who works as director of national sales for We Insure Group. "It was clear growing up that Ted was more than just likeable. People looked to him as a leader. When I shared with him my ambition of a similar nature, his advice to me was simple: Be nice to everybody."
He added: "He remains humble and approachable. He listens to understand, and above all, he's curious, not judgmental."
John Rivers (BS Marketing '89)
John Thrasher likened himself to Rivers because they share a first name, a hometown (Jacksonville), an alma mater and a love of barbecue.
Yet Thrasher called Rivers "a better man."
"He easily is one of the most passionate, kind and generous people I have ever known," Thrasher said. "Make no mistake: He is a serious businessman – but with a great heart of gold, actually garnet and gold."
He continued: "John inspires me in his faith because he doesn't just talk about it. He lives it every single day. He had the courage to retire as president of a $1.5 billion company to pursue a lifelong dream of owning a restaurant. He combined his love of BBQ with his desire to help people in need."
– Pete Reinwald
Peter Collins
Collins spent five years as managing director of Jacksonville-based Rock Creek Capital before he co-founded Tampa-based Forge Capital Partners, where he serves as CEO of the company's real estate private equity fund. Over the last 20 years, he has overseen more than $1.5 billion of real estate and corporate transactions.
In August, he won unanimous election as chair of the FSU Board of Trustees. He also has served as an FSU Foundation trustee and on the College of Business Board of Governors.
About his company
"About 80 percent of what we do is grocery-anchored retail, and we bring grocery stores to 'food deserts,'" Collins said in a video presentation. "Nobody should have to pay $10 for a gallon of milk," just because of the neighborhood in which they live.
About his induction
"I'm honored by the recognition, and I will do my best to live up to it," Collins said during his acceptance speech.
About his alma mater
"My love for FSU was cast in my bedroom in East Palatka, Fla., in 1980," when he listened to the radio broadcast of the FSU football team's 18-14 victory over Nebraska. "My life is all about family and FSU. I'm truly fortunate to have a great family and to be in position to give back to FSU. I can never pay back all that it has given me, but I'm going to try every day."
Click here for more about Collins and his contributions to FSU.
Ted Ostrander
Ostrander made his mark at Leesburg-based Lassiter-Ware Inc., where after military service in 1983, he turned a seven-person office into one of Florida's largest independent insurance agencies. He retired as chairman and CEO.
Ostrander remains active in the College of Business, especially with the No. 1-ranked Dr. William T. Hold/The National Alliance Program in Risk Management and Insurance. He mentors students and serves as chair of the RMI Executive Council.
About his company
"If you're a large company, a large contractor, you have a lot of exposures, and our job was to make sure we covered those exposures," Ostrander said in a video presentation. "There's nothing like being able to stand by somebody who had tremendous losses, and they don't know what's going to happen. And you could just reassure them. You could say, 'It's OK. We've got your back.'"
About his induction
"I'm truly proud to get this honor and truly humbled by it," Ostrander said during his acceptance speech.
About his alma mater
"It's really critical to give back to the college, because we want it to be the best in the nation. And I think the way to do that is not only to be supportive in what you can do as far as internships and being a mentor but also giving money to help. That's what we as alumni have to do."
Click here for more about Ostrander and his contributions to FSU.
John Rivers
Rivers founded 4R Restaurant Group, a Winter Park-based company that boasts 22 Florida locations. These include his flagship 4 Rivers Smokehouse, with locations in Tampa, Tallahassee, Gainesville, Coral Gables and throughout Central Florida.
A former member of the College of Business Board of Governors, Rivers also launched the 4R Foundation, whose 4Roots Farm plans an Orlando farm campus that aims to address food insecurity for Central Florida children.
About his company
In a video presentation, Rivers recalled a charity barbecue from decades ago in which he raised money for a young girl who had cancer. After having cooked for 450 people, he remembered feeling alive. "And you know what it was? It was taking that passion that I loved – cooking – and lining it up to do God's work and help other people. And that became my occupation. That's when you come alive."
About his induction
"It's incredibly touching to be recognized by the school that I care so very much about," Rivers said during his acceptance speech.
About his alma mater
"The thing that I'm most grateful for about Florida State is that true personality and that loving character that it represents and how it lifts people up and it helps them grow, not just academically but truly as a person."
Click here for more about Rivers and his contributions to FSU.