A 'welcome back' from Dean Hartline
---
A 'welcome back' from Dean Hartline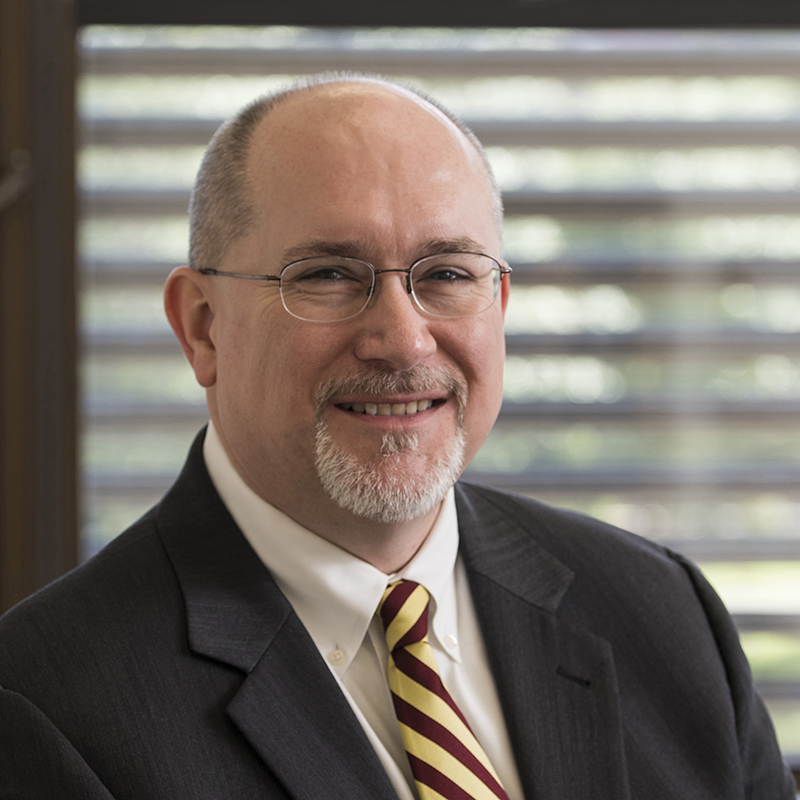 Dear Alumni and Friends,
Happy New Year and welcome to 2022! I hope you enjoyed a wonderful holiday season with family and friends. A new year brings new hope, new energy and renewed excitement for what lies ahead.
We continue to put much of our energy and excitement into Legacy Hall, our future home, which we know will expedite our journey to preeminence. An increase in construction costs has meant a new push for funding so that we can break ground, as expected, this fall. You can read more about it in this month's newsletter story.
We have now reached a midpoint in this academic year and the leadership transitions continue. After welcoming President Richard McCullough in August, the university welcomes a new provost in Dr. Jim Clark, the former dean of the College of Social Work. The college looks forward to working with Provost Clark to continue our journey along the path of preeminence. This semester, the search continues for a new vice president for research, and the search for a new vice president for university advancement will commence soon. Several dean searches also are expected to get underway this semester.
Our college and university continue to excel, and I have never been more excited about our opportunities and potential. Our recent performance in the U.S. News & World Report's Best Undergraduate Business Program rankings demonstrates that our strategic investments are paying off. Most of our academic programs are ranked in the Top 25, with several in the Top 10. Our No. 5-ranked Real Estate Program continues to enjoy amazing success, which you can read more about in this newsletter, and we secured a No. 1 ranking for The Dr. William T. Hold/The National Alliance Program in Risk Management and Insurance. National champion has a nice ring to it!
Speaking of the Real Estate Program, this semester marks the launch of the new Real Estate Investment Fund – an experiential learning opportunity for our real estate students. Thanks to generous investments by several visionary alumni, our students can now strategically invest in REITs and other publicly traded real estate firms as a part of the REE 5209 Advanced Real Estate Finance and Investment course, offered in the real estate specialization within the MBA and MS in Finance programs. Led by Dr. Mariya Letdin, students will have an opportunity to underwrite real estate investment opportunities throughout the semester and present their recommendations to an external investment committee of industry leaders. The Real Estate Investment Fund is operated as a part of the overall Student Investment Fund, and proceeds will be able to support the growth of the Real Estate Program. The fund offers a unique opportunity to provide students with hands-on learning while generating revenue to further improve the student experience. We are unbelievably excited by the potential for this fund to grow over time!
As we remain vigilant during the pandemic, our executive education programs also are expanding. The college's Carl DeSantis Center for Executive Management Education had a great 2021 in both open-enrollment and customized training programs. The center recently completed the pilot Credit Union Leadership Institute, and due to the success of that program, a new program is already under development for May.
Much of the growth in our executive education portfolio, however, is occurring in the health-care sector. The college is providing customized leadership training for Tallahassee Orthopedic Clinic (TOC) and is developing the Healthcare Manager Leadership Development Academy in partnership with TOC and Tallahassee Primary Care Associates. The highly anticipated Business of Healthcare Leadership Academy will launch later this year in partnership with the Florida Hospital Association. The Academy – designed for health-care professionals in both administrative and clinical functions – will give participants an opportunity to share new ideas, explore ways to break down operational silos, contextualize enterprise-level decisions and bring innovative solutions to their organizations. As another story in this newsletter details, these efforts are part of a larger health-care initiative that will see the launch of a health-care specialization within the MBA program in the fall.
We are confident that our academic and executive education programs will continue to grow as we leverage the expertise of our faculty and alumni to expand educational opportunities inside and outside the classroom. To learn more, please visit desantiscenter.business.fsu.edu or contact Blake Renfro at brenfro@business.fsu.edu.
The college had a great 2021, and much is anticipated in 2022. To continue our record of achievement, we need your ongoing support now more than ever. There is no better time to get involved. Here's how you can help:
• Mentor a student or recent graduate
• Create an internship for a student
• Hire a recent graduate
• Attend one of our alumni events
• Nominate deserving alumni, faculty and staff for our awards programs
• Fund a scholarship for a deserving student
• Provide financial support to help us recruit and retain the best faculty members
• Help support the construction of Legacy Hall
• Participate in one of our executive leadership programs
• Introduce us to alumni we need to know
• Spread the College of Business story to others, personally and on social media
You only need a passion for Florida State and the College of Business to get started. To learn more, please contact me, mhartline@business.fsu.edu, or Chelsea Vaughn, our director of alumni engagement, at cvaughn@business.fsu.edu.
Thank you for your unwavering support. Here's to a healthy, happy and prosperous new year!
Warmly,
Mike
Michael D. Hartline, Dean
mhartline@business.fsu.edu
(850) 644-4405