Center for Professional Success offers 'one-stop shop'
---
Center for Professional Success offers 'one-stop shop'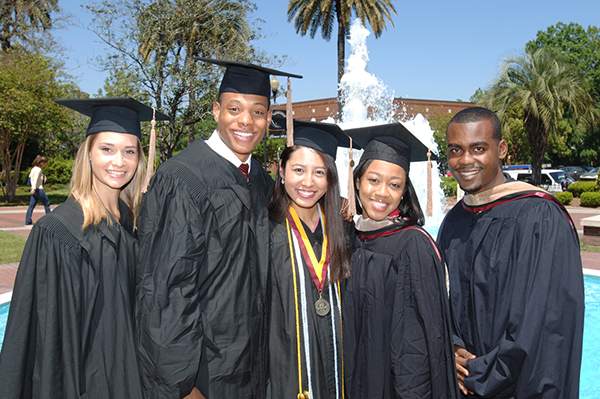 It includes faculty and staff members who help College of Business students get their career goals in order.
It features alumni and business executives who offer participation in networking events and other opportunities.
It even boasts liaisons who point students to comprehensive assistance at the FSU Career Center.
The Center for Professional Success offers those direct services and more -- now housing under one roof programs and amenities that the College of Business had provided separately.
The center, in Room 222 of the Rovetta Business Building, presents a "one-stop shop where students can go for assistance in planning their careers in business," said Rick Morton, the college's associate dean for academic operations. "We've had all of these programs and services, but now they're in one spot, and we've made them more efficient and effective for students to utilize."
The center came at the suggestion of major employers who consider the College of Business a pipeline for talent and who work with the college to provide mentorships, internships and other programs and opportunities, Morton said.
Michael Hartline, dean of the College of Business, hailed the center as another component of the college's mission to create life-changing opportunities for its students.
"As we continue our journey to preeminence, we remain committed to providing our students with effective and accessible educational and career resources from our top-notch staff and world-renown faculty," Hartline said. "We also honor and appreciate the advice of our business partners, who have invested so deeply in our college and students. The Center for Professional Success emerged as the product of those concepts, and we're excited to offer this one-stop location for these crucial programs and services."
The center includes a professional-development program in which advisors help students navigate their College of Business path, with professional success in mind.
The center offers information about jobs, internships, student organizations and employer connections. Director of Student Engagement Marissa Mainwood facilitates student mentorship programs and student events, among other professional development activities, and Director of Employer Engagement Alexandra Massey works to create new internships and job opportunities and oversees the college's Corporate Partners program.
Faculty members include Sarah Withers, associate director of the Center for Professional Success and director of the college's Professional Development Program; and Patricia Shubrick, an associate lecturer and advisor.
Other staff members include an academic program specialist for internships (Sherry Pappas) and three course facilitators and advisors (Latrecha Scott, Janille Burton-Bernard and Jessica Webber).
Rebecca Lovett and Cameron Hatcher serve as Center for Professional Success partners and liaisons to the university's Career Center, which offers career planning, help with resume writing and various other job-search services and resources.
"The goal of the Center for Professional Success is for our resources and services to complement what the FSU Career Center is doing, so we view it as a partnership," Morton said. "It's an added benefit to College of Business students."
The center is open 8 a.m. to 5 p.m. Monday through Friday.
Center officials encourage but don't require appointments, which students can book via cps@business.fsu.edu.
"Students can stop in anytime," Morton said. "They can find networking opportunities, meet with a professional development advisor, learn about student organizations, find out how to connect with employers and find out about an internship or a job.
"Now they can come to one place for all that."
-- Pete Reinwald